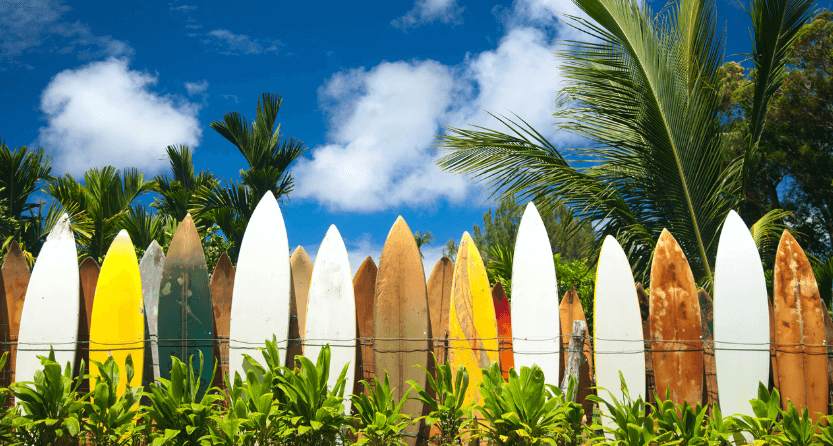 Ready to up your surfing game?
Tenerife is a paradise for surfers, with year-round sunshine, warm waters, and waves suited for all skill levels. Plus, you can find world-class instructors and schooling around the island 🙏☀️
Why Is Tenerife Such a Great Surfing Spot?
Imagine you take the board, go to the Atlantic Ocean, lie on it, and paddle towards the waves. You're waiting, waiting and waiting… and at one point, the tide comes, your adrenaline starts pumping, you start rowing, and finally, you are sliding on your board. What are your thoughts? "I feel free!" Want to experience it yourself?
A top reason Tenerife makes a great surfing destination is its climate. The island has one of the best climates in the world, with temperatures ranging from 19 – 28 °C and water temperatures between 16 – 23°C all year round. That is what makes surfing so enjoyable since you don't need a wetsuit most of the time.
A massive surfing scene happened on this island, trust me! You will have plenty of time to catch your perfect wave as the peak season starts in October and last till May. Tenerife's waves cater to everyone, from novices to pros. For a relaxed day, try El Socorro or La Tejita beach. Pozo Izquierdo is one of Tenerife's best spots if you want more of a challenge. It even hosts the World Championship Tour each February!
And last but not least, Tenerife is a beautiful island with stunning landscapes, including volcanic mountains and beautiful beaches. You can read more in our blog posts: ➡️ Best Beaches in Tenerife and 12 Unmissable Hikes!
What's the Best Time to Surf in Tenerife?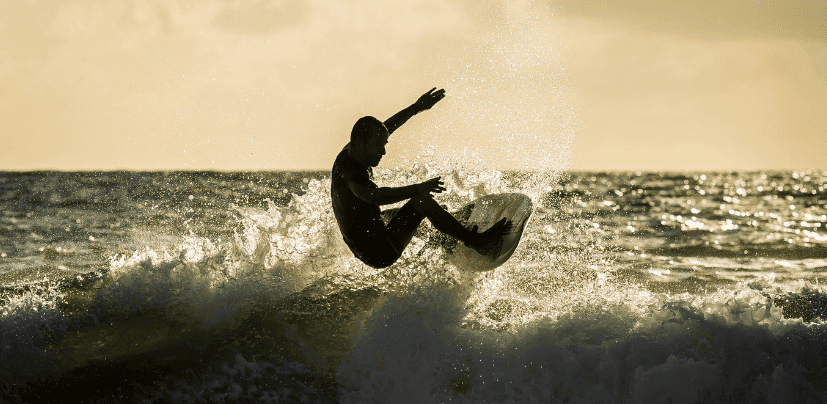 As I already mentioned, the best time to surf here is from October to May. The island's northern part has relatively strong waves; during this time, it offers many spots for experienced surfers. However, a few spots are also suitable for beginners, like Playa de Martiánez in Puerto de la Cruz.
On the other hand, the south offers a wider variety of waves, especially for beginner or intermediate surfers. However, if you're an advanced surfer, you'll be able to find your perfect wave as well.
Surfing Etiquette & Safety
When out in the sea, following safety rules and etiquette is essential. Adhering to these rules will ensure you have a safe and enjoyable time.
Surfing Etiquette:
Show respect to other surfers. Don't drop in on someone else's wave.
Avoid shallow waters. This is where inexperienced surfers start.
Don't steal another surfer's wave.
Be patient. Everyone deserves the same respect.
Yell "SNOWBALL!" when you catch a wave. This signals new people to go back out in rotation.
Surfing Safety:
Check beach conditions and hazards with an instructor or experienced local.
Assess your skill level before paddling out into more giant waves or currents.
Keep an eye on other surfers. Make sure they know where you are.
Be aware of rips and shore breaks. This will help you get back ashore safely.
Surfing Lessons & Classes in Tenerife
Many surfing schools are available, with something for everyone – from first-timers to pros.
You can find private or group classes. All the techniques and tips you need to get on your board are here. Certified coaches and instructors also offer special classes for kids.
Catch waves year-round in Costa Adeje, La Tejita beach in El Medano, or further up north. Classes may vary depending on the beach, as some areas may be unsafe due to strong currents.
Popular classes include:
Group lessons – start from €30 per person per hour, including the board rental fee.
Private lessons – one-on-one instruction with an instructor, coached by land or water.
Kids sessions – fun activities supervised by qualified staff.
Intermediate courses – focus on common mistakes and how to correct them.
Professional coaching – improve your technique with professional help.
Tips for Enjoying the Surfing Experience
Pack your board, wetsuit, and other essentials like fins, leashes, and repair kits.
Check the waves and swells before you go for the best ride and safety info.
Research and sort out local surfing schools and rental shops before arriving.
Watch experienced surfers closely to learn their habits and techniques.
Understand local rules, regulations, and hazards before entering the water.
Let someone know where you are going and when you'll be back.
Stay hydrated, and eat snacks between sets.
Enjoy the incredible oceanic views and warm waters of Tenerife!
Here Are the Best Spots to Surf in the North: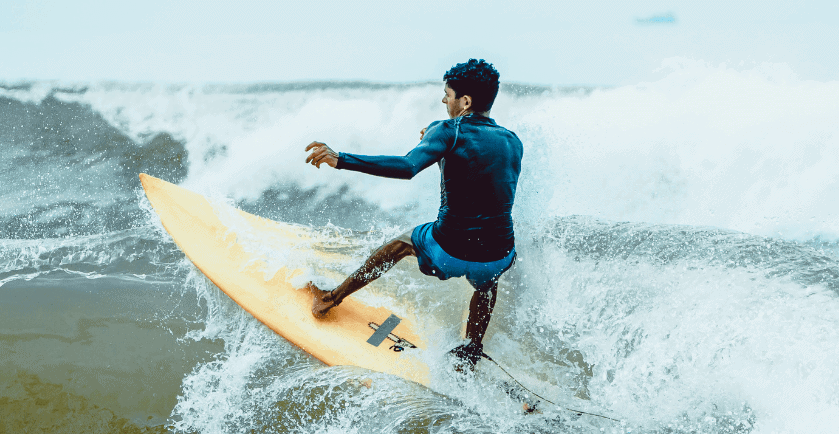 This volcanic beach in Puerto de la Cruz is known for its consistent waves, making it an excellent spot for beginners and experienced surfers. The waves at Playa de Martiánez are usually up to 2 meters high, and they can get more significant during the winter months when swells come in from the North Atlantic. The beach has a reef break that produces both left and right-hand waves, making it suitable for surfers who prefer either direction.
There are several surf schools, for example, La Marea Surfschool and Quivers School Company, and rental shops where you can get everything you need for your surfing adventure -wetsuits, surfboards, etc..
Lil tip: A surfboard that fits your size, skill level, and style is vital. Beginners should get a foam board or longboard with many volumes to help them paddle and stay stable. Intermediates and experts should get a performance-shaped board or mini-mal made of fiberglass or epoxy resin for flexibility and control. I am sure you will get all this information on the spot.
FYI: If you stay in Puerto de la Cruz for some time, we invite you to take our Spanish classes during the day and surf with other students in the afternoon in Playa de Martiánez. We'll take care of everything, from the class to the equipment.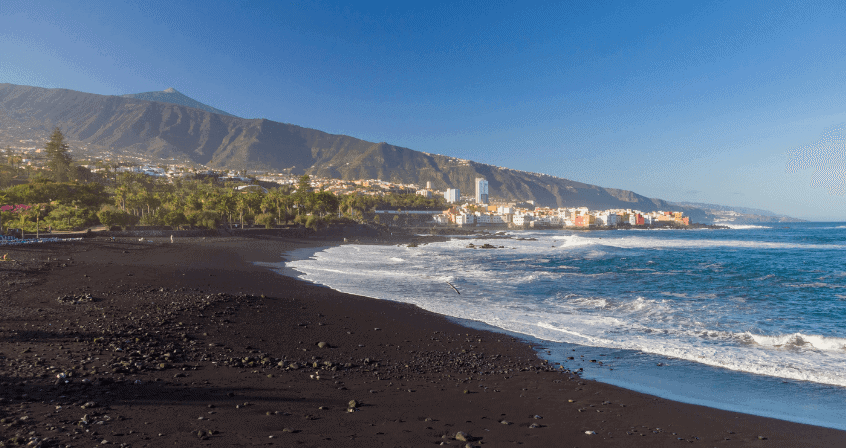 Playa Jardin is another popular surfing spot in Tenerife, located just a short distance from Playa de Martiánez in Puerto de la Cruz.
The waves at Playa Jardín are generally smaller than those at Playa de Martiánez, making it an excellent spot for beginners. The beach has a sandy bottom, and the waves break both left and right, with a reef break at the north end of the beach. The best surfing conditions at Playa Jardín are during the winter when the swells are larger and more consistent.
In conclusion, Playa Jardín is a great place to relax, play a volley, or sunbathe. Also, you can find all the necessary facilities like showers, toilets, and changing rooms.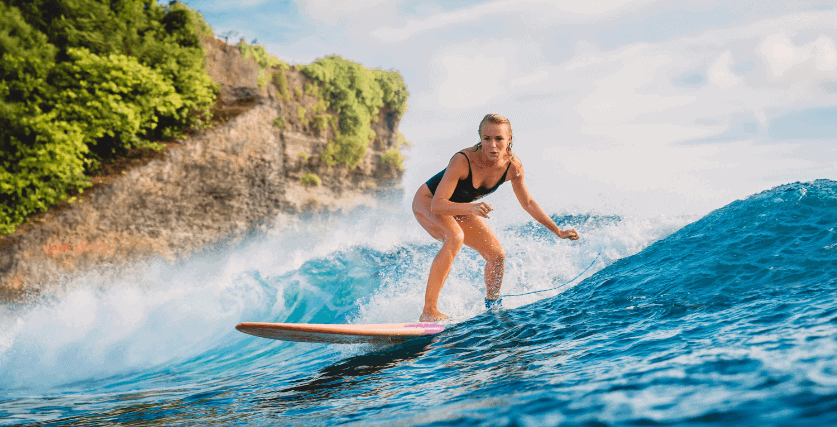 Playa del Socorro is another popular surfing destination in Tenerife, located on the island's northwestern coast near the town of Los Realejos. It's a beautiful black sand beach with stunning views of the Atlantic Ocean and the surrounding cliffs.
Playa del Socorro has powerful, challenging waves for experienced surfers. The beach has a reef break that produces left- and right-hand waves, which can get up to 2-3 meters high.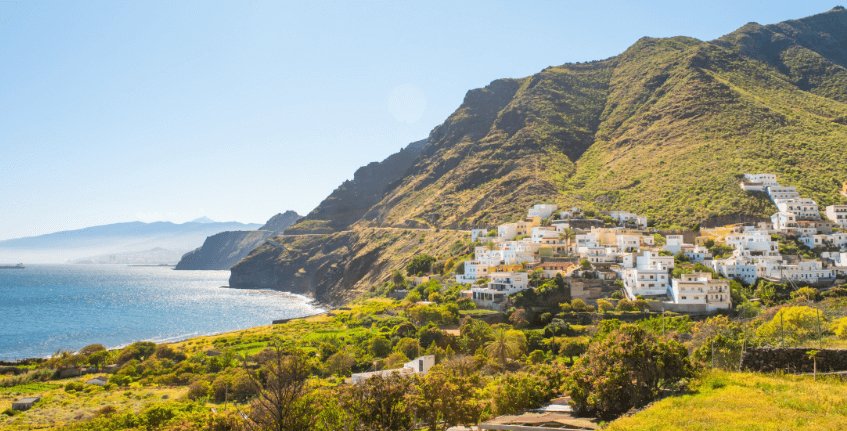 Igueste de San Andrés is a small town on the northeastern coast of Tenerife, and it's a popular surfing spot in the area. The town is surrounded by stunning natural scenery, including the Anaga Mountains and the Atlantic Ocean.
The waves at Igueste can be powerful and challenging, making it an excellent spot for experienced surfers. The beach has a rocky reef break that produces left and right-hand waves, which can get up to 2- 3 meters high. It's recommended that beginners refrain from surfing here due to the difficulty level of the waves and the rocks.
A few surf schools and rental shops in the area cater to surfers of all levels. They provide surfboards, wetsuits, and all necessary safety equipment, including leashes and fins. The surf instructors are knowledgeable and experienced and will ensure a safe and enjoyable surfing experience.
Here Are the Best Spots to Surf in the South: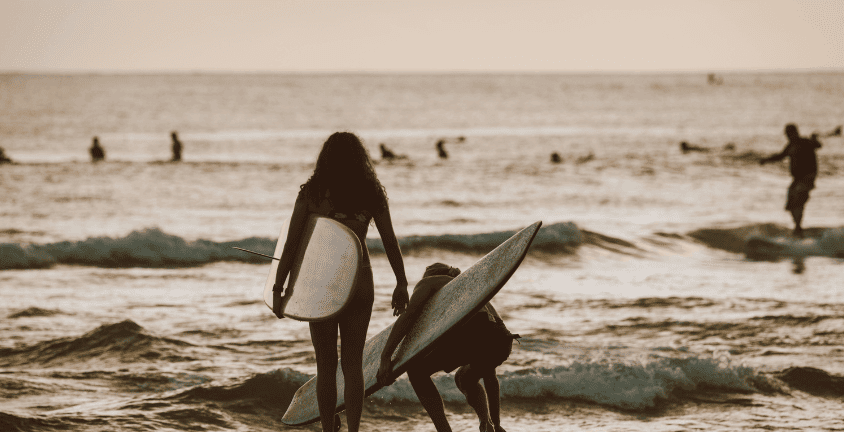 Playa de las Américas is a popular tourist destination located on the southwestern coast of Tenerife, and it's also a well-known surfing spot on the island. It is a long, sandy stretch of coastline with a variety of surf breaks for all levels of surfers.
The waves at Playa de las Américas range from gentle, rolling waves for beginners to more powerful reef breaks for experienced surfers. Beginner and intermediate surfers especially enjoy the beach since the waves are generally smaller and less challenging than at other spots on the island. However, when the conditions are right, Playa de las Américas can also produce powerful waves for more experienced surfers.
There are many surf schools and rental shops located in the area, offering lessons and equipment. You could try the K16 Quiksilver Surfschool. The best part is that as a student at this surf school, you can practice independently after classes since they allow you to use their equipment. Talk to your instructor about it in advance, though 🙂
Or The Palm Beach Surf Shop & School is just meters away from 6 excellent beginner surf spots.
Also, Playa de las Américas is a bustling tourist hot spot with many restaurants and bars. It's known for its vibrant nightlife and various activities, from shopping to water sports.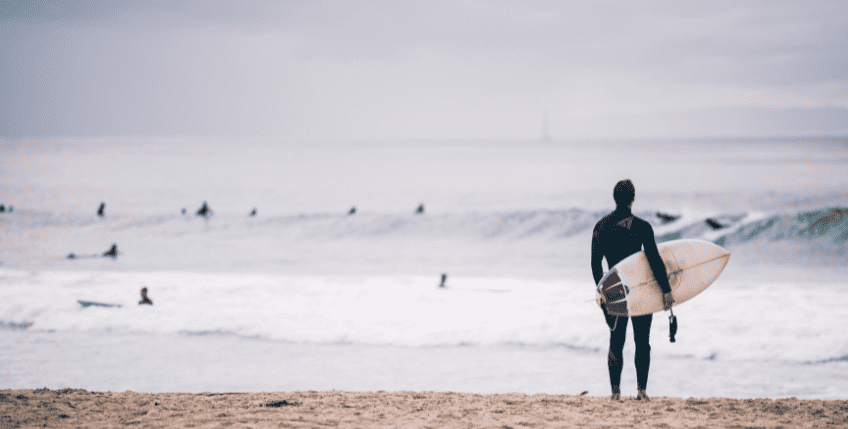 "Las Galletas" is a small town located on the southern coast of Tenerife, and it's also a popular surfing spot in the area. The town has a small, rocky beach that produces a consistent wave that surfers of all levels can enjoy.
A reef break creates the wave at Las Galletas, and it's known for being a fun, mellow wave ideal for beginners and intermediate surfers. The tide is generally smaller and less potent than some other surf spots on the island, but it's still a fun wave to ride and can provide a sound longboard wave.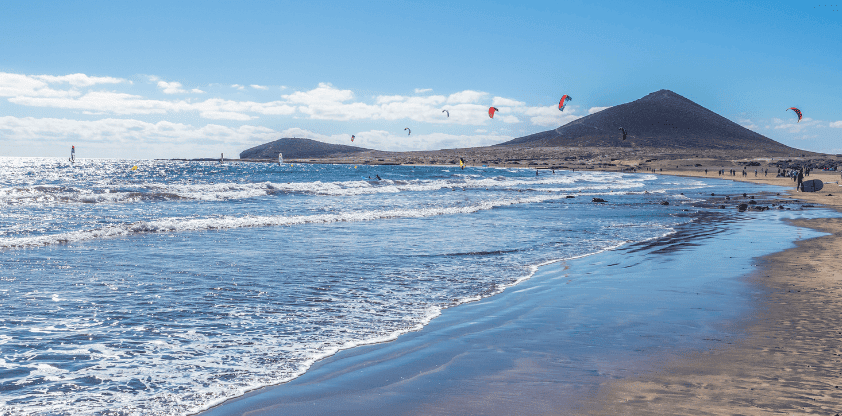 El Médano is an excellent place for beginners. It's near the Los Hombres mountain range and Reducto beach in La Caleta de Adeje. El Medano offers protection from waves. El Dedo beach has sandbars that create sound shore break waves, perfect for learning.
The beach is known for its consistent waves and windy conditions. It has several different breaks, with waves ranging from small and mellow to large and powerful. The best time to surf in El Médano is from October to March when the conditions are most favorable. The waves are typically around 2-3 meters in height during this time. Remember that the wind can be pretty intense, so that paddling can be challenging.
Apart from surfing, El Médano is also famous for windsurfing and kitesurfing. There are several surf schools and rental shops on the beach, so try a new activity if you haven't done it before.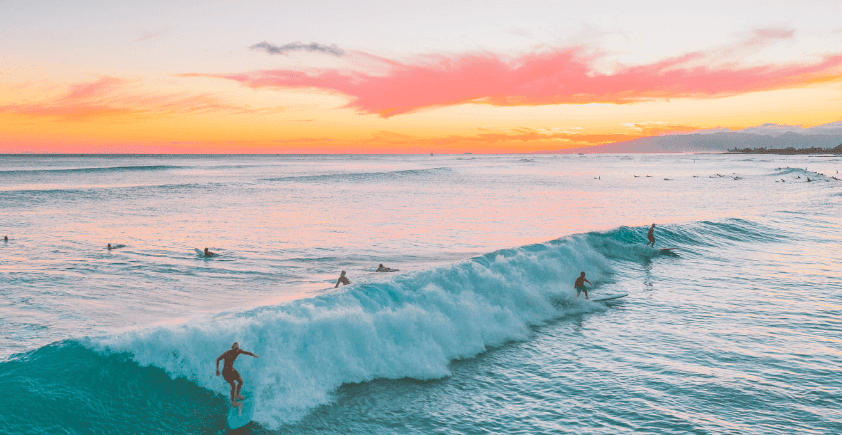 Fun fact: there is a little phenomenon happening during the wintertime. The powerful waves suck away the sand from the beaches, and they appear rockier than they are. This creates sand deposits in the water near the shore, and surfing can become more comfortable because you will have more sand at the bottom.
Too Many Days of Surfing in a Row?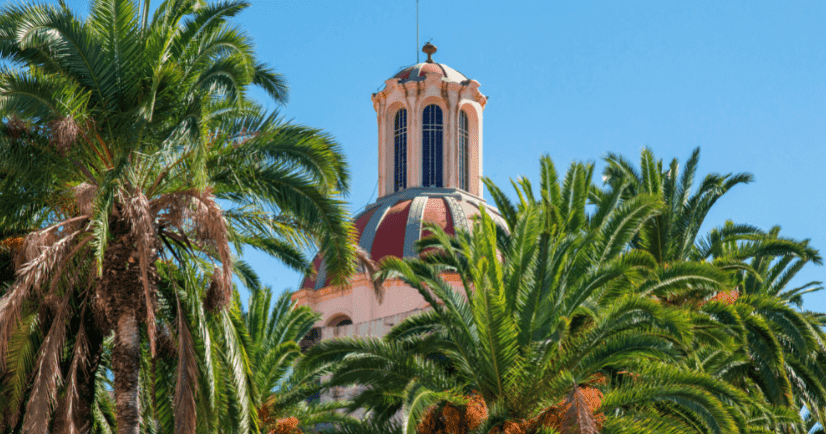 You can take a break when your muscles hurt because you have been surfing for too many days! Recovering in Tenerife's pure nature feels excellent, like hiking or walking at the Teide National Park or Anaga rural park in the north.
For all foodies out there, you'll love the local restaurants or guachinches. Papas arrugadas, fresh fish, mojo rojo, and verde sauces are some of the traditional dishes you'll eat here. If you love wine, you can join a wine tasting in one of the vineyards on the island. And If you would like to learn more about Canarian food and wine, look at our blog posts: ➡️ The 20 Best Restaurants in Tenerife & Tenerife Wine – Best of the Canary Wines.
How about Loro Park – Puerto de la Cruz, where you can see orcas and other animals? Or Siam Park, the best water park you've ever been to?
You'll also find great nightlife and tons of traditional festivals. There are small festivals like Romerías, and big ones like Semana Santa and the famous Carnival. See this video to see what the carnival in Tenerife looks like.
Places to Stay
Accommodation depends on budget, location, and type. Some of the best hotels and resorts include Hotel Riu Buenavista, Gran Meliá Palacio de Isora Resort & Spa, Iberostar Bouganville Playa Hotel & Apartment Complex, and Holiday Village Tenerife.
Budget travelers have a lot of hostel options. Blue One Hostel, Santa Cruz Beach Hostel, Earth 'n' Sun Hostel Barra & Games Café, and Kalle's Retreat Hostel are in El Médano. Home Garden Inn is in the city center, close to malls and golf courses. For bigger groups, Villas Yaiza offers villas.
Frequently Asked Questions
Q: How difficult is it to learn to surf in Tenerife?
A: Learning to surf in Tenerife is not tricky. The warm waters and consistent waves make it an excellent place for beginners to learn. There are also experienced instructors available to help you get started.
Q: What is the cost of renting surfboards in Tenerife?
A: The cost of renting a surfboard in Tenerife varies depending on the type and size of the board. Generally, you can expect to pay anywhere from €10-20/hour for a bare board.
In this blog post, we've mentioned many reasons to try surfing on this island. The waves are great, the views are stunning, the weather is on point, and you can find a welcoming surf community you can be part of. What else to wish for?
So don't hesitate and come to join us in this surfing paradise!