Do you want to get the most out of Santa Cruz de Tenerife in ONE day?
This ultimate city guide will take you on a journey to Santa Cruz de Tenerife, the capital of this Canary Island. Unknown spots, the coolest shops, and the best cafés.
An easy route that shows you the best of Santa Cruz and more!
As a bonus, you will learn a few Spanish words (esp. las palabras españolas)! Would you like to improve your Spanish? Check out this blogpost for more tips!
---
The Route
It begins and ends at the Santa Cruz central transport station – "Intercambiador de Transportes de Santa Cruz de Tenerife." Also, if you travel by car, it is easy to find free parking places in the nearby shopping malls, for example, the Shopping Center Meridiano – "Centro Comercial Meridiano."
Opening hours: 10 AM – 10 PM ☺️
1. Auditorio de Tenerife Adán Martin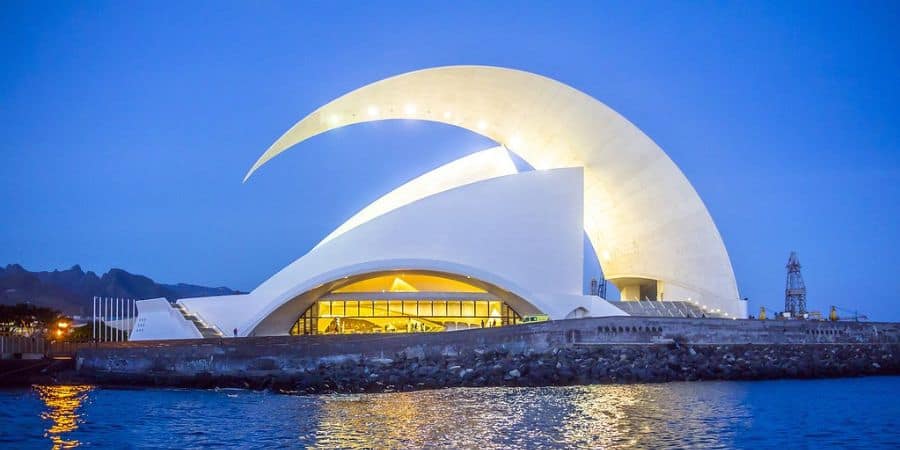 The first thing you see upon arrival at the train station is Auditorium of Santa Cruz – "Auditorio de Tenerife Adán Martin". It is similar to the Sydney Opera House in Australia. It fascinates not only architecture and design enthusiasts, but all other visitors for its unique design and great arc.
Check our full guide about Auditorio de Tenerife Adán Martín.
Once you have taken photos of the building, you will want to move around it, where on the left side, you will see not only fishermen patiently waiting, modern buildings or other sightseeing of Santa Cruz, but also huge rocks carved with the portraits of famous musicians, painted by Bulgarian artist named Stoyko Gagamov.
Some sightseeing near Auditorio De Tenerife:
"Castillo de San Juan Bautista" – Castle of St John the Baptist
"Casa de la Pólvora" – House of Gunpowder
"Parque Marítimo César Manrique" – César Manrique Maritime Park
"Palmetum" – Botanical Garden
2. Market of Nuestra Señora De África

About a 10-minute walk along the Santa Cruz Port (esp. puerto) from the Auditorium you will find one of the most famous markets in Tenerife, Market of Nuestra Señora De África – "Cooperativa Mercado Nuestra Señora De África". It's known for local products, and its colorful and vibrant atmosphere.
Start at the first floor where you will find multiple food stands. "Madre Mia Rolls" is one of the favorites, where you can get banana-nutella-apple Cinnamon rolls and start exploring the market.
Also located on the first floor is a local fresh fish market (esp. mercado del pescado), which the food lovers adore, but vegans might hate, as it contains an interesting assortment of fresh sea products.
When you go up, you will find many local treasures, including jewelry, fresh food, wine, spices, etc. Chat with Canarian playful sellers and buy handmade products such as earrings to take a little memory home. (eng. "How much does this cost?" – esp?")
Grab a coffee and a quick breakfast in the market center, while watching stories unfold in front of you with the local merchants and buyers. People's lively energies charge you up, making you feel uplifted and excited about the rest of your day.
Keep in mind the opening hours: 6 AM–2 PM ☺️

3. TEA Tenerife Espacio de las Artes
Directly across from the market is the TEA Tenerife Arts Space – "TEA Tenerife Espacio de las Artes". Although the two buildings are completely different, both are unique and fascinating in their own way. While market architecture is colorful and historically significant, museum architecture has a more contemporary look and is an example of the modern style of the Canary Islands.
Apart from holding exhibits, workshops, and film screenings, the museum also has a modern library with great aesthetics, where you can study all day long. A café with a great coffee menu is also right there.
Be sure to visit the gift shop; since they have some really cool merchandise from young local designers: everything from graphic T-shirts to notebooks and posters. It would be a shame if you missed it!
4. Serrador Bridge (Puente Serrador)
Leaving the museum, you come out to the Serrador Bridge – "Puente Serrador" – offering beautiful views of Santa Cruz.
You'll see some impressive graffiti art as you go underneath the bridge, and on your left side are many restaurants with outdoor seating. It's a nice place to have your lunch. Later it gets more lively, as young locals gather for drinks at night. Try "Frida del Rincón" (eng. Frida's Corner), one of Santa Cruz's best lunch spots.
5. City Center of Santa Cruz
The Serrador Bridge (Puente Serrador) leads to Santa Cruz's city center – "Centro de la ciudad de Santa Cruz", home to the Guimera Theater – "Teatro Guimerá", whose entrance is flanked by an interesting sculpture. Near the theater, you will find buildings with interesting architecture and hidden bars, such as "Tattoo Art Café".
Further, you'll find the few crowded shopping parallel streets with mainstream brands such as Zara, Oysho, or Mango. Visit the local Santa Cruz shops or Spanish brands such as Natura, Uterqüe, etc. Aside from stores, the Santa Cruz city center offers various local restaurants and cute cafés like "Café Palmelita", known for its coffee. Towards the end of the street, you will find "Plaza de Espana", a popular tourist attraction, from there you can also visit the Port of Santa Cruz de Tenerife.
There are a couple of cute squares nearby, like the little Square of the Prince of Asturias – "Plaza del Príncipe de Asturias", with its cozy cafés that serve the best barraquitos in Tenerife and wonderful bakeries.

6. Parque García Sanabria & Plaza Veinticinco de Julio
Within 10 minutes of the square, you'll find the Park Garcia Sanabria – "Parque García Sanabria," an urban park full of chirping birds, fountains, aromatic gardens, impressive monuments, and art. You'll mostly mingle with locals since tourists don't usually go there. It is an excellent place to relax after a city walk. Restaurants and cafés are also available in this area, including "Terraza Parque" and "Café Bar & Lounge Macusamba".
A short distance from this park is one of the most beautiful places in Santa Cruz de Tenerife, a small square called "Plaza Veinticinco de Julio," covered in Sevillian ceramic tiles. The benches are decorated with vintage ceramic advertisements promoting the construction companies.
One of the coolest local shops can be found near the park – Atorie Tenerife Vintage Shop & Tattoo Studio – which combines a tattoo shop and clothing store. In addition to second-hand clothes, they also stock local designers' clothing. Next to the store, you can find one of the best vegetarian restaurants in Tenerife – "La Verdulería" (eng. the vegetable shop).
A bit further on, you can see the following:
"Cuartel Almeyda"- The Army Museum
"Monumento al Ángel de la Paz" – The Monument of Angel
"Mirador La Cruz" – An Observation Deck
"Los Campitos – Mirador de Santa Cruz" – An Observation Deck
7. Back to the City Center
On your way back to city center, you'll see the square of General Weyler – "Plaza del General Weyler", it takes you onto Castillo Street "Calle del Castillo" and the "Rambla Pulido" shopping area. Don't miss "Flamingos Vintage Kilo Tenerife" – a famous vintage shop in Tenerife that you must visit.
Nearby you will also find one of the popular places to eat in Santa Cruz – "Pizzeria Manammé" – which serves authentic Neapolitan Pizza, that many people describe as the best pizza in Tenerife. And yes, it is really delicious, see for yourself.
If you want to grab some drinks after the city tour, you can return under the Serrador Bridge, about a 10-minute walk from the main bus station, a street full of bars, restaurants, and live music.
Summary
Are you still wondering if Santa Cruz de Tenerife is worth visiting? – Hopefully not! Because this city is definitely a must-visit!
There are so many things to do in the capital of Tenerife, that you will definitely enjoy! In addition, if you need some getaway from urban life and want to enjoy the sand and the sea, the nearest beach to Santa Cruz is "Playa de las Teresitas".
Do you want more tips about beaches? Read more in our blog post about the 10 Best Beaches in Tenerife!
Below you will find once again lists of the places to visit in Santa Cruz de Tenerife, as described above, and a few more recommendations.
---
List of other places to visit in Santa Cruz
Where to eat in Santa Cruz?
Where to shop in Santa Cruz?
---