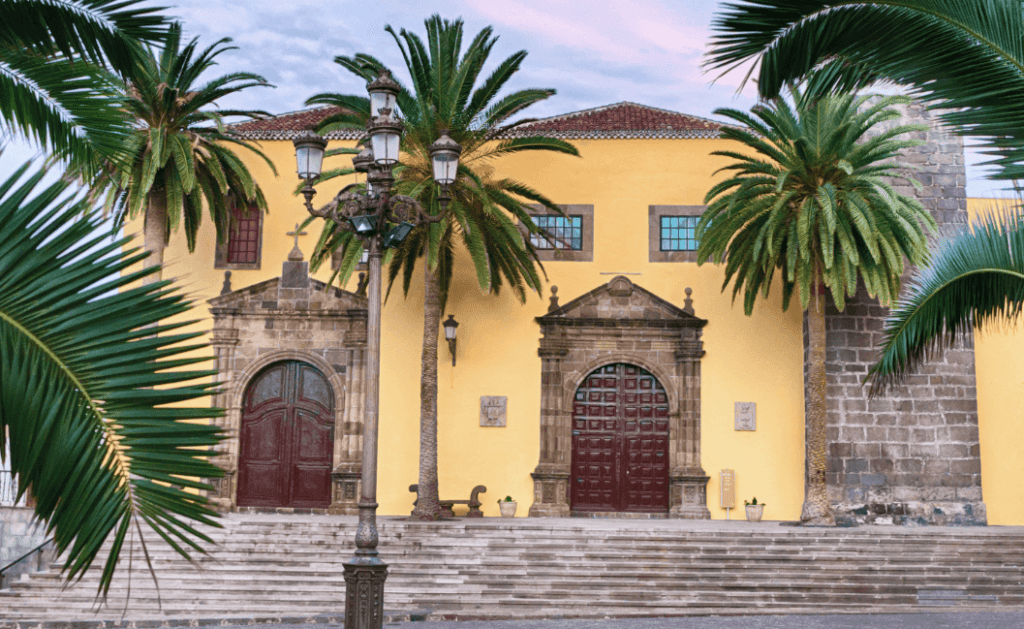 Do you have plans to visit Tenerife and need help figuring out what to do first? There are many fun things to do on the island, such as whale-watching, hiking through beautiful mountains, climbing the third-highest volcano in the world, kitesurfing, and snorkeling with turtles. 🌴🌞⛰️🤿🐢
1. Whale Watching – An Unforgettable Experience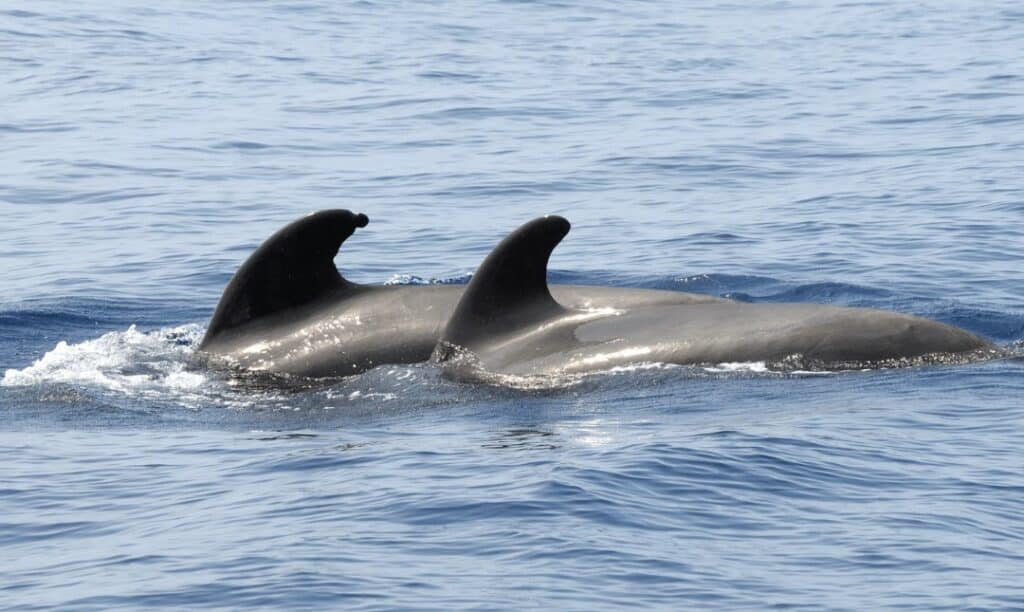 The whale-watching tours around the island's coast are the most desirable as Tenerife is one of the best places in the world to see these amazing mammals. It is estimated that there are 21 different kinds of whales in the Atlantic.
The most common whale-watching encounters are with pilot whales and bottlenose dolphins. Pilot whales can grow up to 7 meters long, while bottlenose dolphins are 2-4 meters long.
In the past there was a bigger possibility to see whale species such as humpback and sperm whale, however, now with the increase in tourism and marine traffic, there is almost no chance to see them.
Watching Dolphin Swarms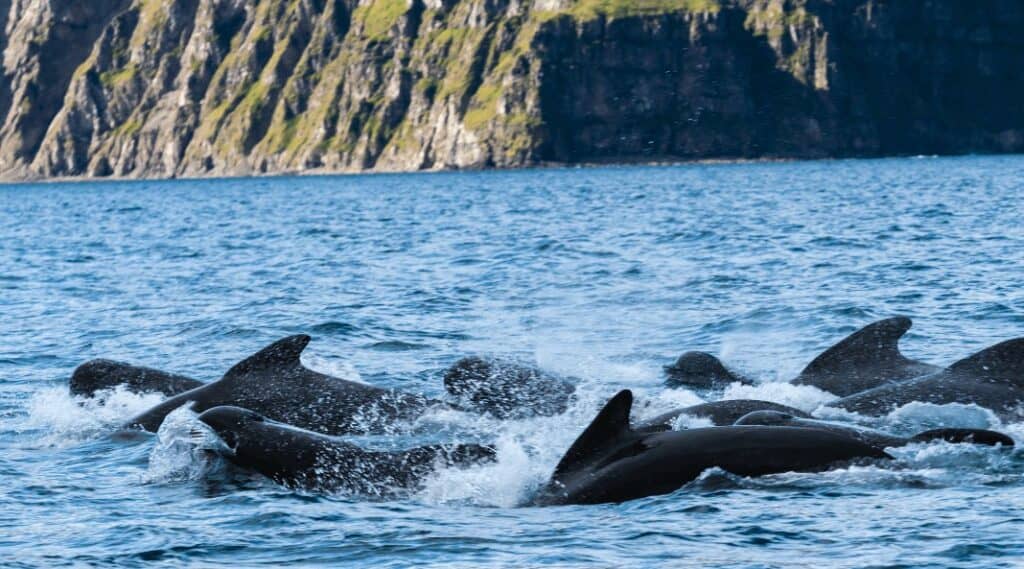 Sometimes, dolphin swarms travel through the Atlantic close to Tenerife. Dolphins are highly social animals, and they tend to form groups to increase their chances of survival, mate, and engage in social activities.
You might spot them while diving or on the tour. It is a magnificent experience. If you decide to come to the Canary Islands, take advantage of it.
What Is the Best Whale-Watching Tour?
There are many whale-watching tours here in Tenerife, and you can take either a speed boat, yacht, or eco-yacht tour. Have a look at all tour options here.
It is essential to pick a responsible tour operator that follows ethical guidelines and regulations for approaching marine wildlife. This means keeping a safe distance from animals and respecting their space.
Locations
You can join a whale-watching tour in many locations, such as Puerto Colón, Costa Adeje, Puerto de Los Cristianos, Puerto de las Galletas, Puerto de Los Gigantes, and Puerto de Santiago.
2. Hiking – Walking Through Paradise
Teide National Park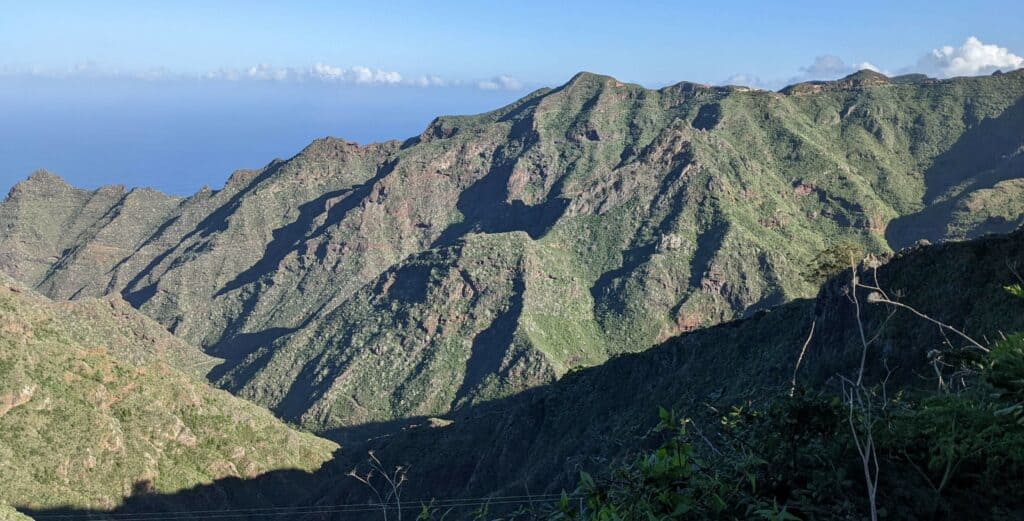 If you're not a sporty person, hiking might not be the first thing that would cross your mind; however, it is the best choice for discovering the island on foot. And I promise you will find another side of this island and see some of the most stunning views on this planet! Whether you want a difficult hike or an easy one, there are plenty of options.
There are a lot of beautiful hiking trails on the island, but Teide National Park is the most famous one. Volcanic formations dominate the landscape, including lava fields, craters, and unique rock formations. It is also home to the world's third-highest volcano, Teide. Read more information on the page dedicated to information about Tenerife.
If you want to make the most of your trip, try climbing Teide. It's a challenging hike because of the high altitude (3715 m.), but once you reach the top, you'll have a spectacular view and a great feeling of achievement! To climb during the day make sure to book a permit beforehand, however, if you hike during the night you don't need a permit. Check this video:
Another way how to reach the top is to take a cable car. Read more info here: Complete guide on how to get up Mount Teide peak.
Anaga Rural Park
Another popular hiking spot is the Anaga Rural Park in the island's northern part. This park has many excellent hikes, moderate and easy to access by bus and car. For example, the hike called Punta del Hidalgo is the most beautiful one (in my opinion) and takes you through some of the most beautiful sceneries on this island. 🙂 However, be prepared it is not for the weak ones.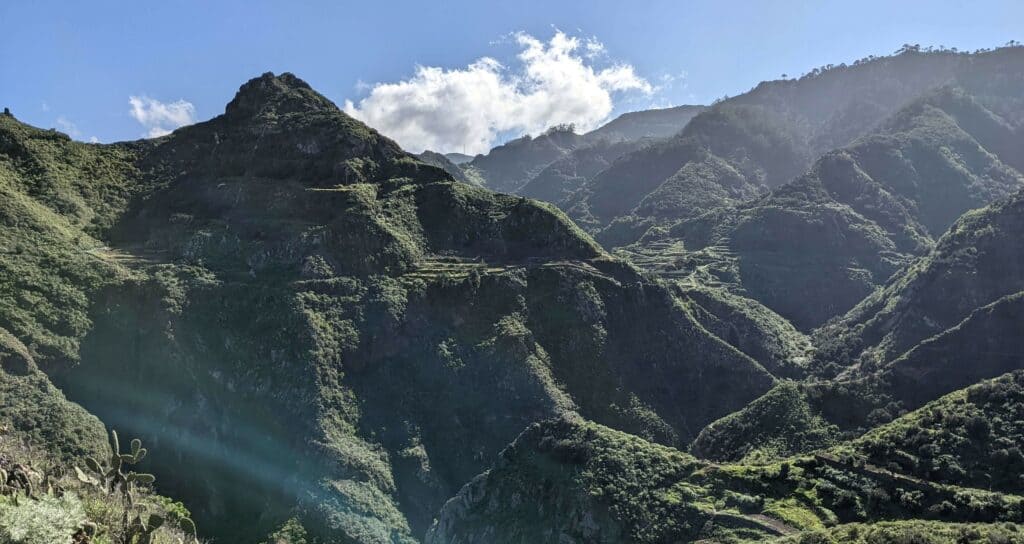 Masca Village
Masca Gorge is a unique hiking trail that takes you through a massive gorge with towering cliffs and ocean views. Read more about the Masca hike in our blog post: ➡️ Looking for a Must-See Place in Tenerife? Go to Masca.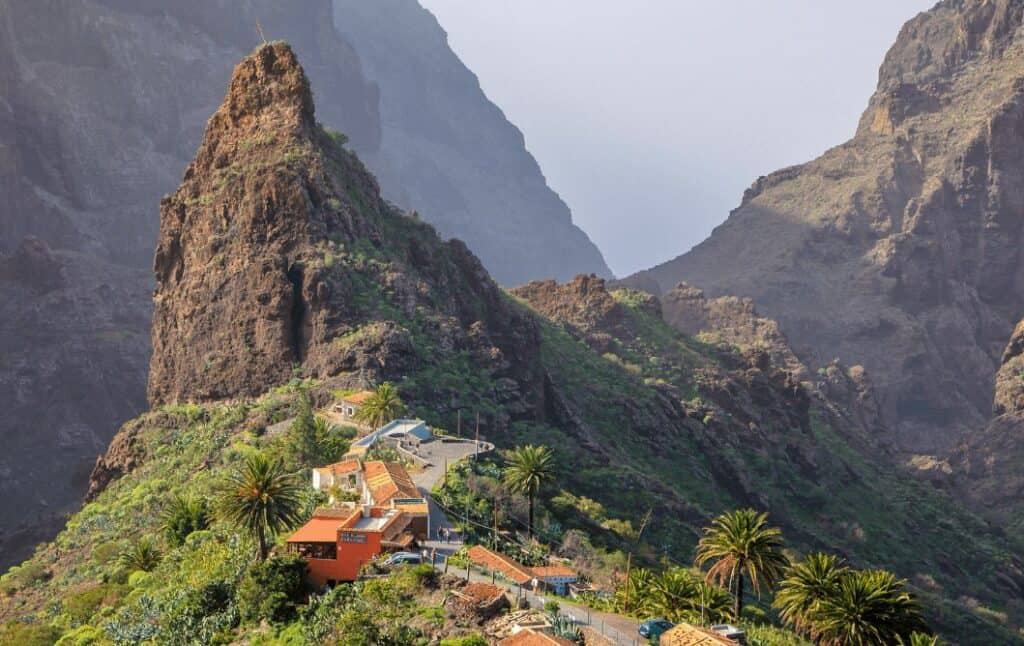 All hikes are easily accessible by car, bus, or with guided tour. Check our post "12 Unmissable Hikes in Tenerife" to learn about the most essential hikes in Tenerife and plan yours!
Is it essential to take a guided hiking tour in Tenerife?
The honest answer is – no. The hiking paths are usually well-labeled, and you will find a lot of information and tips about the different walks. If you want to be sure not to get lost, follow only the official routes.
However, if you're looking for a company or don't want to think about organizational details, then a company would be the perfect solution!
If you decide to go hiking in Tenerife by yourself, make sure that you note the following points:
🥾 Take enough water with you
🥾 Use sun protection. Bring a hat or cap
🥾 Bring warm clothes – a jacket, raincoat, and waterproof pants. In some parts of the island, it will be chilly and humid, like Anaga Rural Park for example
🥾 Make sure you start your trip with a fully charged cellphone/mobile – Tenerife's emergency number is 112
🥾 Good footwear – please keep in mind that some trails can get slippery, so it is recommended not to wear flip-flops or high heels
‼️ Inform yourself about the chosen hike path's length and difficulty level ‼️
3. Kitesurfing – Experience the Adrenaline Rush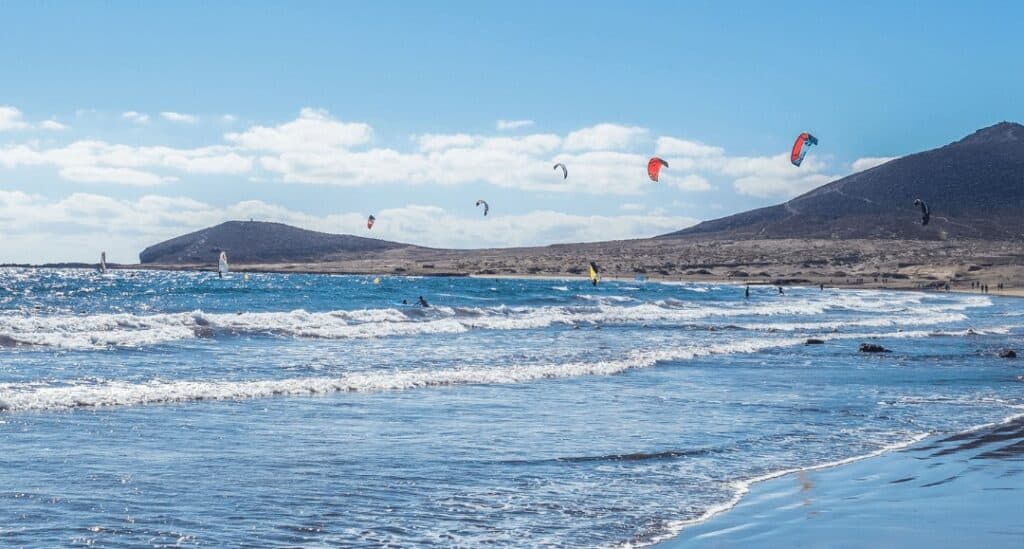 Tenerife has perfect kitesurfing conditions due to its reliable winds and long beaches. It has around 290 days of good wind per year! It's best to windsurf from April to September when the winds are most vital and consistent.
Where to kite-surf?
The most popular spot for kitesurfing is El Médano, located in the south of the island. This beach is well known for its consistent winds and flat water, so it is perfect for beginners and freestyle riders. Here you can also watch the World Kiteboarding Championship.
Other great kitesurfing spots in Tenerife include the beaches of Los Cristianos, Playa de las Americas, and Playa del Duque. Surfers and freestylers love these spots because they combine flat water and waves.
!! It is vital to remember that kitesurfing can get dangerous if safety measures are not taken !!
Many Kite-schools offer a reasonable price for the equipment and lessons depending on the group type (e.g., beginner or experienced kiters) and size.
Best kitesurfing schools:
Tenerife Kitesurf – located in El Médano. This school provides the latest equipment and has experienced instructors.
Kite Surfing Tenerife – this kitesurfing school is based in Los Cristianos and offers lessons for all levels and equipment rental, storage, and repair services.
4. Climbing – Finding the Best Crib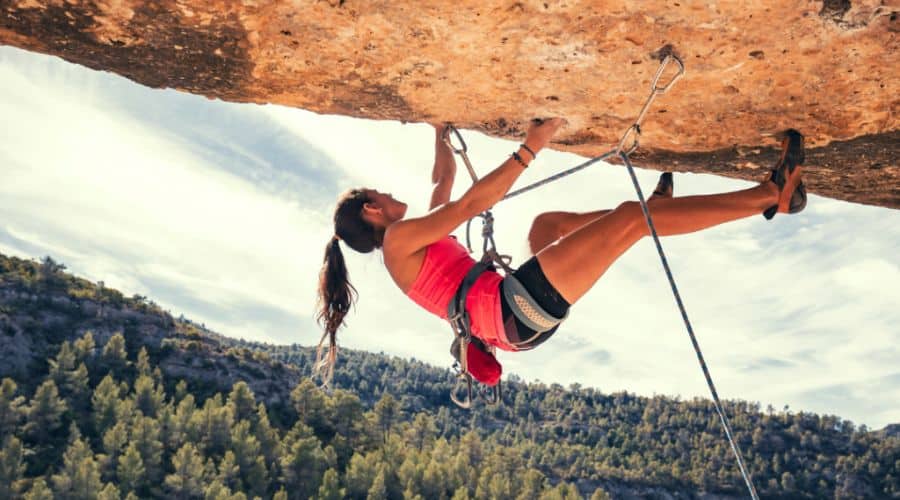 Our fourth way to know Tenerife is to go climbing. The climbing scene has grown significantly in the last ten years and offers various climbing experiences, from sport climbing on vertical basalt cliffs to multi-pitch routes. The most popular climbing places are near La Orotava and, in the south, close to Arico.
Arico is the largest area for climbing in Tenerife, with 261 sports routes. The grades varied between 3 and 7b.
The third-largest rock climbing area is located southwest of Tenerife and has over 100 ways. The canyon Guía de Isora (Guaria) has the tallest crag. There you'll find several multi-pitch routes (2-3 ropes).
Las Cañadas, or La Cañada del Capricho, is the best bouldering place in Teide National Park. The landscapes are stunning but dangerous, the altitude is over (2000 m), so the sun can be powerful, and in winter, it can get pretty cold. So make sure you're prepared if you go there.
!! Climbing in Tenerife is usually safe, but we recommend bringing someone along !!
5. Snorkeling – Exploring the Underwater
One of the popular activities in Tenerife is snorkeling. The warm waters, rich marine life, and incredible underwater landscapes make it a true paradise for snorkeling.
The best place to go snorkeling is at El Puertito de Adeje, located south of the island. You can rent the necessary equipment from the local diving centers and head out into the clear waters to explore.
Another perfect location for snorkeling is Playa de las Vistas, which you can find just a short distance from Los Cristianos. There's a long stretch of golden sand and crystal-clear waters perfect for snorkeling.
Read more in our blog post ➡️ 4 Amazing Spots for Snorkeling in Tenerife.
Are you ready to explore Tenerife now? Then start planning the best activity according to your preferences and abilities!