Puerto de la Cruz – just one hour away from the touristy south of Tenerife lies our charming town, Puerto de la Cruz. You have never heard of it? – People are often overlooking this part of the island due to slightly less sun exposure than in the south, but what they don't take into account is that Puerto de la Cruz is buzzing with something that a lot of southern places are missing: local life and Canarian authenticity! As many southern towns have a high focus on tourism, many people work there, but they don't live there…
In Puerto de la Cruz you can actually get the chance to immerse in the Spanish village flair and the Spanish way of living. Especially for Spanish learners, this is a great opportunity to talk to locals and get the full Canarian experience!
The Island of the eternal spring has so much more in store for you than catalog holidays in hotel complexes and sunbathing. It's time to get up and set off to explore this fascinating, unique island. After all, you won't come across Tenerife's true beauty and unforgettable landscapes by slurping Piña Colada by the pool…
This blog post will lead your way to explore the most beautiful corners of Puerto de la Cru and its surroundings within walking distance or just a few bus stops away and as such serves as a guide on what to do in Puerto de la Cruz!
1. Tourist Attractions in Puerto de la Cruz
The town's main square is called Plaza del Charco. It is the central meeting point of the city and brings together the main streets of the old town. Plaza del Charco is the cosmopolitan heart of Puerto de la Cruz and serves as the perfect scenery for an afternoon coffee. The houses along the roads that lead away from the square are kept in colonial style and dominated by Canarian architecture with beautiful, wooden balconies.
Lago Martiánez is not only an open-air swimming pool but an artistically designed saltwater bathing complex with impressive sculptures and gardens, that guarantees a good time for the whole family! Not to forget the view of the Teide! We owe this attraction to the Canarian artist César Manrique.

The well-known Botanical Garden is one of Puerto de la Cruz's greatest treasures. It was built in 1788 by the order of King Carlos III to acclimatize tropical species to the climate on their way to Europe – hence the actual name "Garden of Acclimatization of la Orotava". The city council of Puerto de la Cruz is currently working on enlarging the Botanical Garden and making it even more worth visiting. This place is ideal to spend an hour in harmony and peace with nature.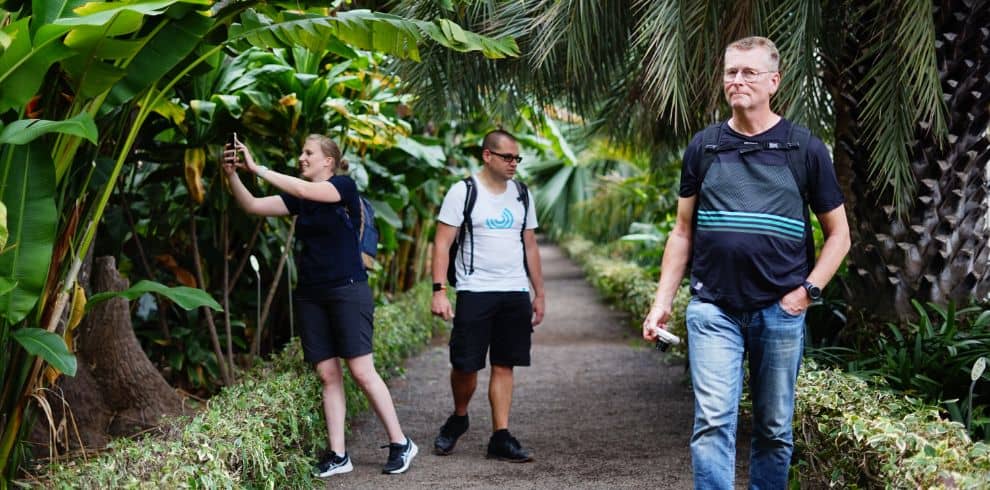 And if you're already there, why don't you swing by our Spanish language school, FU International Academy Tenerife? We are located right next door and our patio is the perfect place to enjoy a coffee in the FU Café!
Loro Parque in Punta Brava is a zoo park that houses more than 350 different species of wonderful parrots and offers the perfect location for a day trip for the whole family. It was founded in 1972 and has recently been elected as the Best Zoo in Europe and ranks within the World's Top 10. Loro Parque Foundation is funding a huge conservation project for endangered species.
Every 30 minutes you can take the squeaky yellow train bus from Plaza de Los Reyes Católicos, outside of McDonald's to the park.

Only a few guagua (Canarian for "bus") stops away, but way further up in the mountains, lies the charming town of "la Orotava". When taking a stroll through la Orotava, you will be amazed by the countless colorful buildings in typical Canarian style and carved wooden balconies embellishing the streets. Not to forget the spectacular outlook over the Atlantic Ocean on the one side, and the Teide extending over the panoramic view on the other. What a picturesque combination! But for those who take the bus to La Orotava, we recommend bringing a jacket, as it is a little colder there than in Puerto de la Cruz.

Parque Taoro, the green heart of Puerto de la Cruz, is a local hideaway and well-kept recreation area that extends over 100.000 square meters. This park is not what you would expect from a typical park. It is characterized by a series of terraces that gradually take visitors higher. After climbing the 250-step stairs, you are rewarded with a breathtaking view of the city and the ocean. Sit down in the small cafe that awaits you on top and enjoy the silence. The paths leading you there wind through colorful flowers, ponds, waterfalls running down the terraces, and palm trees. Stop and catch your breath at one of the various viewing platforms. Appreciate the outlook and take a walk to enjoy this quiet and peaceful place.

2. Beaches of Puerto de la Cruz
Playa Jardín
This gorgeous black sand beach with views of the Teide is the longest beach in Puerto de la Cruz and is divided into three parts: Playa Grande, Playa Chica, and Playa del Castillo. All of them are characterized by being wild and breezy and therefore ideal for surfing, but also the perfect place to play beach volley or end a busy day watching the golden sunset!

Los Roques
This rocky volcanic beach is part of a nature reserve and takes its name from the two huge rocks that rise from the sea shaped by the water over the centuries. It goes without saying that the view is a breathtaking spectacle and ideal for photographers and wild nature lovers!
Playa de Martiánez
A small volcanic beach, flanked by restaurants and an enjoyable boardwalk, ideal for surfing and for enjoying holiday vibes!
Playa del Muelle
This one doesn't count as a proper beach considering its very small size. Nevertheless, you often see many people laying and relaxing on its shore. Located right in the middle of the port, it claims itself the most traditional and picturesque seaside resort in Puerto de la Cruz. The port atmosphere, the historical fish market, and the little boats will take you back in time.
Fishing Port in Puerto de la Cruz, Tenerife, Spain. Puerto Nuevo is located next to the Bateria de Santa Barbara, in front of the Customs House. It was the main port and business center of the island until the eighteenth century when all this activity was moved to the capital, Santa Cruz. After that, it started to serve as a small fishing port where recreational ships also dock and even people use it as a beach.
Playa El Bollullo, Playa Los Patos and Playa El Ancón
These beaches are for all the adventurers among you! Just lazing around is not enough for you? Then put on some shoes, pack enough water and snacks and get ready for an unforgettable day on an almost untouched beach. The three rarely frequented beaches belong to the same coast and they are located next to each other. You can reach them by foot via a more or less hidden trail (more on this later), which is definitely worth the effort! Watch out! Depending on the time of day and the season, the beaches might be completely flooded.
If you're interested in discovering amazing beaches, check out post The 10 Best Beaches in Tenerife!
3. Puerto de la Cruz's Stunning Viewpoints
Puerto de la Cruz is the perfect place to combine city life with relaxation, nature and action. It's one of those places you can't get enough of, as you will always find new roads and places to explore. There are several viewpoints along the coastline, where the beauty of Puerto de la Cruz shines at its best.
El Peñón del Fraile
A volcanic rock produced from the eruption of the Taoro volcano in 1430 that became a picturesque place to enjoy the amazing view of the sunset over the sea. You can recognize this viewpoint by the big cross on the top of the rock. With a great evocation of the past, it's considered a very special place by the residents of the city of Puerto de La Cruz. The legend says that in some of the cracks in the rock there is a hidden treasure of the famous pirate Caraperro…
Punta del Viento
It is nearly impossible not to walk past this incredible place while strolling through the center of Puerto de la Cruz. Take a moment, feel the energy of the waves crashing into the rocks and the peace and silence that comes with the view over the expanse of the blue Atlantic Ocean.
Mirador la Paz
A pretty high-positioned terrace that offers a far-reaching, dazzling view over Puerto de la Cruz, the ocean, the coast of the La Orotava Valley, and, sometimes, even the Island of La Palma!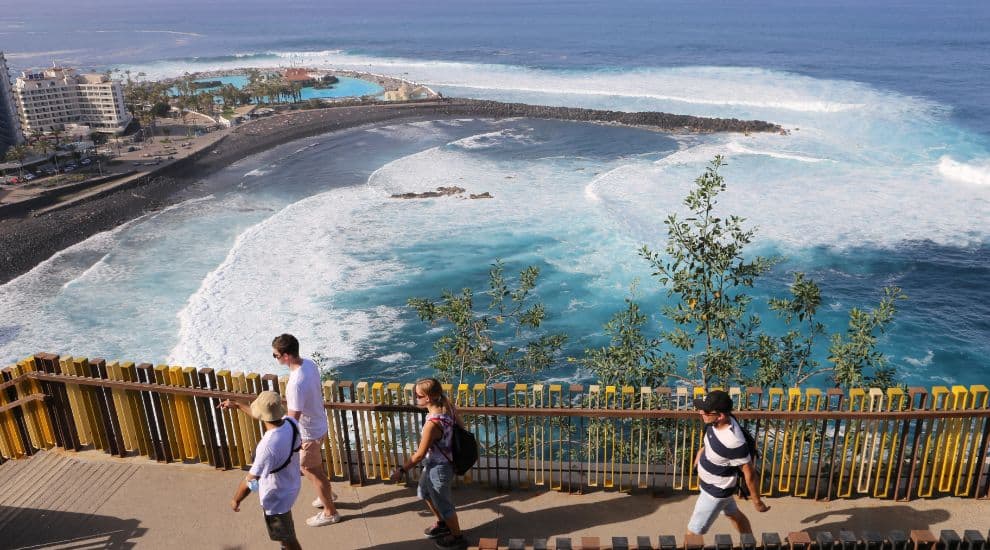 4. Hiking in and Around Puerto de la Cruz
Puerto may not give the impression of a hiking place, but there are two hidden hiking gems you can't miss when you are in Puerto de la Cruz!
Hike to Rambla de Castro
A two-hour walk takes you through the wonderful Rambla de Castro: it combines the great natural wealth of a protected landscape with the traces of the typical field work of the Canary Islands. This 4 km-hiking trail starts over Los Roques beach and culminates in the Hacienda de Castro, where you can see the memories of the pirate attacks of past centuries, the ancient beauty of Casona de Castro, and the first steam engine that was used to raise water in Tenerife. Finish your hike with a refreshing drink or coffee in the restaurant at Mirador de San Pedro and enjoy the rewarding views.
Hike to Bollullo Beach
In the opposite direction, on the other side of Puerto de la Cruz, you will find the three already mentioned beaches Playa El Bollullo, Playa Los Patos, and Playa El Ancón.
Now, we are not referring to the beautiful beaches themselves, but to the path that leads to them. Starting at H10 Hotel at Playa Martiánez you walk your way up through the tunnel leading east. On the way to the beaches, you will be surprised by beautiful views over the sea and the city before you are led through a huge banana plantation. You always want to stay as close to the sea as possible and keep the water on your left side. You also have the option to walk another 10 minutes and discover Playa de Los Patos and Playa El Ancón. Be aware that the descent is quite rough.
On the way back you should take a break in the Restaurante Bollullo Beach and enjoy the view. A little tip on the side: you won't regret trying their Mojito… it's sooo good!
Wherever you go, just remember to protect our environment and to leave nothing but your footsteps behind!
Find further explanations about these hikes and more inspiration here: 12 Unmissable Hikes in Tenerife.
5. Best Restaurants in Puerto de la Cruz
Very typical are Tapas: a small collection of tasty dishes like Chorizo (spicy sausage), Gambas (prawns), and much more, which we truly advise you to try! You must try the famous Tortilla de Patata (omelette with potato and onion), or the Pollo or Conejo al Salmorejo (traditional hot dish based on chicken or rabbit).
There is no chance for you to get past our legendary and delicious Papas Arrugadas with Mojo: even if you don't order them, you'll find them somewhere as a side dish or offered by the house instead of bread! These tiny, salty, wrinkly potatoes served with the characteristic red or green mojo sauce will never disappoint!
Another local entry dish is Queso asado, which is nothing else than roasted cheese served with mojo sauces on top and sometimes also palm honey or marmalade. Simple but so good!
The Rancho Canario is also a must: as you can understand from its name, it originates here and contains a little bit of everything (usually meat, sausage, chickpeas, potatoes, and noodles). You may also find Gofio Canario on the supermarket shelves. Gofio is a kind of flour made from toasted cereals, generally millet or wheat but is not a dish itself, only an ingredient! It can be used in soups or stews, desserts, spread for bread, or as a breakfast mixed with milk or sprinkled on cereal.
We could add so much more to this list but we suggest you browse around the city to discover how many curious flavors it has to offer! Check out our favorite restaurants and have a taste of Tenerife in the best restaurants in Puerto de la Cruz!
Trust us… you must try their Tapas! Cheerful and familiar atmosphere, high quality of the food and enjoyable courtesy from the staff! You will find this lovely restaurant on the stairs of Camino de las Cabras.
This local restaurant is located in a quiet alley of Puerto de la Cruz.Ideal for fish, excellent tapas, churros and delicious octopus! We love to come here to spend a truly beautiful evening without spending too much!
A small local restaurant with the perfect port atmosphere! Enjoy fast service, very fresh fish and delicious local wine.
Come here if you want to enjoy a romantic atmosphere. Only 20 minutes of walking distance from the port center, this restaurant is immersed in a seventeenth-century architecture that you can enjoy by sitting at the large tables in their beautiful garden. The cuisine is typical of the Canary islands: strong flavors, mojos, grilled meat and some seafood dishes.
An Italian restaurant located in a lovely alley that we truly advise you to try. Here you can both order Italian and Spanish typical dishes… whatever your choice is, you won't be disappointed!
A wonderful house museum that gives you an authentic taste of Canarian cuisine. The owners welcome you with a drink accompanied by Spanish music and an extraordinary view. Between these walls of rich history, we can guarantee you that your experience will be unforgettable.
This restaurant is inside a typical ancient Spanish house, with a beautiful central courtyard and a ceiling open to the sky. The staff is very kind and the fish dishes are all of good quality. We recommend you to book in advance!
A lovely restaurant right at the Plaza Benito Pérez Galdós, where you can find traditional dishes with a twist and very good mix plates of Tapas!
We love this restaurant! Come here if you want to try real typical Spanish and Canarian dishes! Paella, Papas Arrugadas with Mojo, Tapas, fresh fish, and excellent homemade wine.
This lovely restaurant offers healthy meals at very low prices. Situated in the historic center of Puerto, it's really suitable for everyone, but especially vegetarians, vegans or celiacs will find their piece of heaven in this restaurant.

6. Best Cafés in Puerto de la Cruz
One word: Barraquito. You cannot leave this wonderful island without having tried this delicacy. Trust us, you won't find this anywhere else!
This coffee drink combines everything that is good and brings out something even better. It's made out of layers of condensed milk, liquor 43, coffee, milk foam, and cinnamon. If you're not a fan of liquor in your coffee you can try a Café Bombón, which is just sweet condensed milk layered with coffee on top. Don't forget to snap a picture before stirring up the beautiful layers! These are our favorite Cafés you should check out during your stay in Puerto de la Cruz:
This beautiful, elegant, and ancient café serves really good coffee and even better cakes!
Loved by tourists, but right on the seaside promenade and immersed in the good holiday vibes! Why not give it a shot and enjoy a coffee accompanied by some live music from the streets?
Amazing sandwiches, coffees, and great value for money. The Café as an amazing playground for kids and a place to go to watch football matches! What else would you expect from our cafeteria?
A modern coffee shop with a wide selection of coffees, desserts, their own chocolate, toasts, and pastries. They also produce their own ice cream, highly recommended!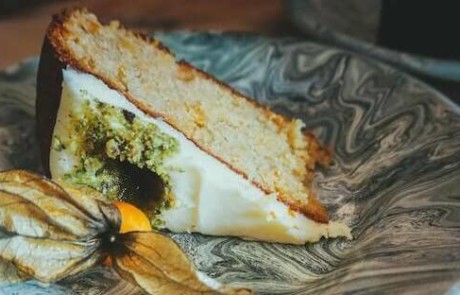 7. Puerto de la Cruz's Nightlife
As one of the top tourist destinations in Tenerife, Puerto de la Cruz has something in offer for everyone: from dance bars and outdoor clubs to live music, pubs and wine bars.
On the ground floor of this beautiful building, you'll find a stylish restaurant, while the DJ on the upper floor welcomes the night with great music and drinks!
A Sunday night at Paragüitas is a must when visiting Puerto de la Cruz. Great salsa music and dance atmosphere. Be sure that you will be asked for a dance, so don't be shy and swing those hips whether you know the dance or not! We promise that if you dare to dance you will not only learn some steps but also have a really fun night!
Feel the rhythm of the best Latin music and take part in a free dance workshop taking place every Friday at 10 pm. Learn basic steps of Kizomba, salsa and bachata and show off on the dance floor afterwards!
We recommend this place for all the club lovers. Don't forget that we are in Spain and here the night and the party starts a lot later than you are probably used to… so don't be surprised if there is still nothing going on just after the clock strikes midnight.
Not many tourists know about this place, so if you want to see how the local youth spends their nights out you should definitely check it out! This place, located right on the beach, is perfect for an aperitif in front of the sunset, a dinner, a pre-party drink, or for open-air clubbing. Be prepared to stand in line when you want to join the club and don't forget to bring your ID – remember not to expect the fun crowd before 2 am!
If you come to Puerto de la Cruz and catch a rainy day, we recommend you to hop on the bus to La Orotava and get off at the shopping center "La Villa". This Mall is the largest in the north of Tenerife and offers over 100 shops, cafés, a cinema, restaurants and a huge supermarket. You'll find everything you need (or want) for the perfect shopping day!
From experience I can tell you that you will ask yourself of what to do in Puerto de la Cruz, not because there is not much to see but because of too many activities and places to choose from!