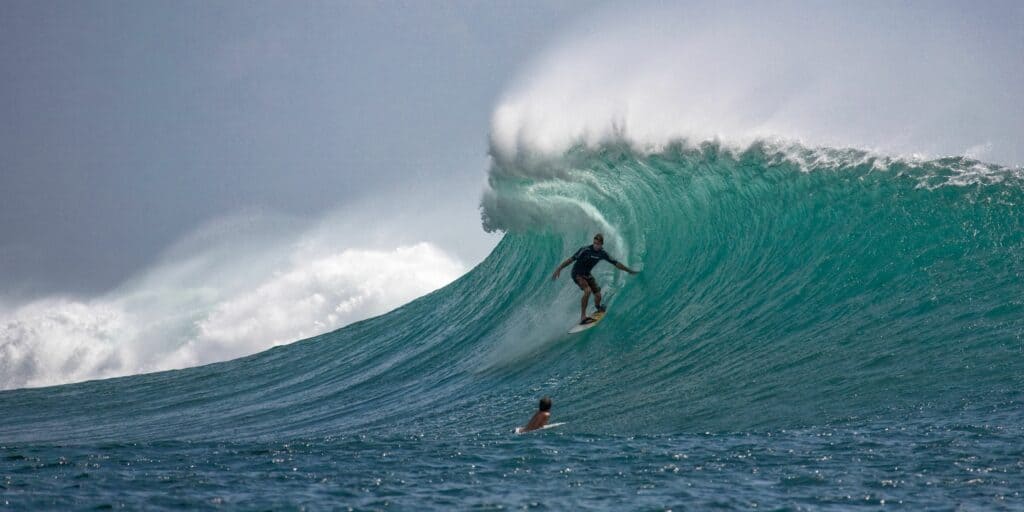 Tenerife is the largest island on the Canarian archipelago. Not only is this island rich in breathtaking landscapes, but there are also a gazillion things to do on it. All these choices can seem overwhelming, but don't worry. We are going to make it easier for you!
Our guide offers a list of the five main and most exciting outdoor activities to do in Tenerife.
Get off the main roads!
Have a full immersion on Canarian life by going on a jeep safari. You'll not only discover Tenerife's hotspots, but also the hidden charming small villages that make this island so unique.
These tours offer different types of excursions, for individuals or groups, that lead to the Teide National Park via the famous "hidden" village of Masca, for example. They even offer trips to the neighboring island of La Gomera!
You can book these tour rides either individually, and meet interesting people on the jeep ride, or have a jeep just reserved for you and your group of friends and family.
While jeep riding you're the person in charge of the route, this means that you're the one who determines which places to visit and for how long you'll visit these for. You can therefore wander around as long as you want through the area, and take as much time as you want to have a photo shoot on one of the most insta-worthy places in Spain.
You can choose the transport you desire:
Make it a real outdoor experience by choosing the classic open-style jeep or,
Choose the comfort of a comfortable four-wheel-drive vehicle.
Where can I book a Safari Jeep Tour in Tenerife?
Unique Horseback Riding Tours
Get closer to nature and discover Tenerife's most beautiful natural parks while horse-riding.
Horse-riding tours are one of the best ways to discover the breathtaking nature of Tenerife. You can choose a range of different routes and locations to ride through. Either banana or avocado plantations, or cross-country trails through the majestic volcanic landscapes of the island with a view to the Teide, we're sure every location will leave you in awe.
You can book these tours online through various providers. They offer guided tours for different group sizes, experience levels, and age groups. They will help you to create the best routes adapted to your preferences and even guide you through Canarian customs and culture.
Horseback riding tours are possible all year round in every season and almost every day. Prices vary between €34 and €120, depending on the duration and the group size of the tour. Horse-riding gear such as helmets, saddles, reins, bridles, etc. is provided by the tour companies.
In case you want to try horse riding on a long-term basis, providers usually offer horse riding or horse jumping lessons too. Moreover, if you prefer a more intense, adventurous holiday, you can participate in longer riding journeys or even get the full experience by staying at a horse ranch.
Riding lessons are offered to everybody: kids, adults, beginners, and experienced horse riders.
So, what are you waiting for? Choose your route and start exploring Tenerife from the back of a horse!
Where can I a horseback-riding tour in Tenerife?
Bird's-Eye View of Tenerife by Helicopter
Watch the Teide from above! Our next recommendation is a helicopter ride over Tenerife!
Discover Tenerife from the air by flying over the island on a helicopter. Not only will you be able to appreciate its beauty from another point of view, but you'll get to see hidden places, otherwise inaccessible.
"Helidream Sky Experiences" is a well-known company that offers beautiful tours around the island. You can choose from a range of beautiful tours with views that will surely take your breath away. Tour prices vary between €98 and €1900, depending on the length and duration of the ride.
During your helicopter ride, you'll get to see some of the natural landmarks such as the Teno mountains, lava flows, or the Masca canyon, not to mention the beautiful, abrupt coast of Tenerife. You'll surely experience a lot of jaw-dropping moments, especially at the first glimpse of the Teide National park or the gigantic cliffs of Los Gigantes.
Are you ready for take-off?
Paragliding in Tenerife – Feel Free Like a Bird
"Would you jump off a cliff, if your friends did?" – literally, every mother ever.
The answer is yes. Get your blood pumping and start paragliding along Tenerife's wild landscapes!
Discover the beautiful scenery Tenerife has to offer while slowly gliding along its breathtaking landscape. We're sure this unique experience will leave you in awe of Tenerife's natural wonders, while you fly over ancient lava flows, the Teide National Park, the Masca Canyon, and the abrupt coastline.
You can find paragliding schools and clubs all over the island, so finding the flight that most suits you and your budget should not be difficult. Apart from courses and individual flights, paragliding schools here in Tenerife usually offer their activities in English, and sometimes even German!
The most beautiful and challenging place for paragliding in Tenerife is the North, especially around Puerto de la Cruz, Santa Cruz, La Orotava, Tacoronte, and Los Realejos. However, if you're living in the South or you're planning to stay there for a while, you can try places like Adeje and Jama, which are also well-known paragliding spots.
Tenerife's mild climate makes it a fantastic all-year-long paragliding location. Also, due to its high-altitude, mountainous landscapes, Tenerife has a handful of optimal starting points that will ensure flight durations of over 30 minutes.
Paragliding has no age limit, from kid to retiree you can jump off as many cliffs as you desire (as long as you're jumping with a professional). Depending on the company, you can find deals starting from €90 on.
Have we piqued your interest? Start flying like a bird and book your session now.
Are you ready to jump?
Parasailing over the Atlantic Ocean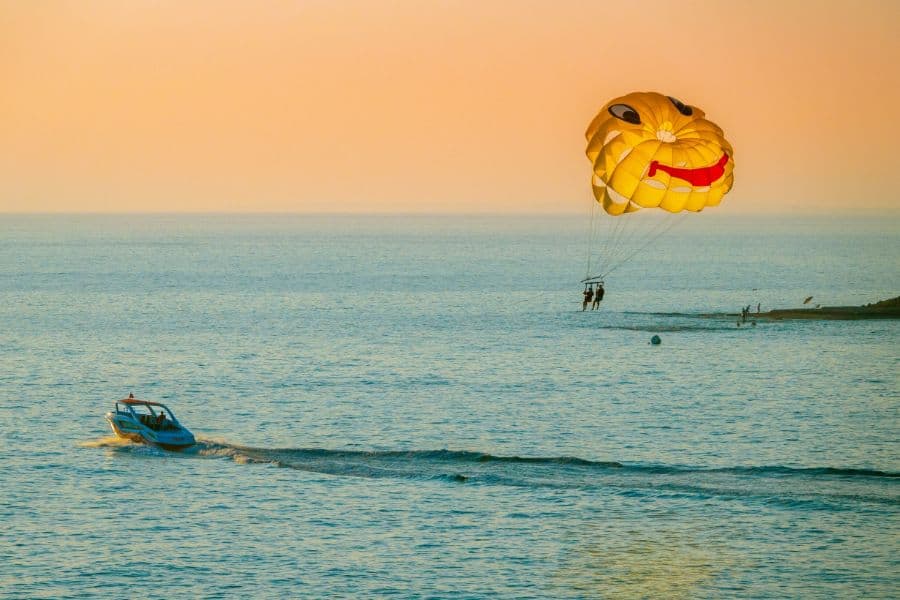 Don't get confused, we're talking para-sailing now, not paragliding now. "What's the difference?" – you may be asking yourself. Same principle, different environment. While paragliding is performed by jumping off a cliff, parasailing, as the very name implies, is done on (or better said "over") the water.
In this sport, the parasailers are attached to a sailing boat. As the boat speeds, the parasailers start gaining altitude while gently gliding over the ocean. At no point will your chute be detached from the boat, so you can rest assured to have a relaxing, stressless experience.
In general, there is no age limit for parasailing, but participants need to meet the weight requirements, and certainly not be afraid of heights. It's also suitable for physically disabled people.
During parasailing, you'll ascend up to 100 meters over sea level. This will give you the opportunity to admire Tenerife's beautiful landscapes from the sky, broadening your perspective of the island. Peacefulness in the air – alone or in tandem – it's up to you.
The minimum weight for flying alone is 125 pounds (56 kg) and the maximum is 450 pounds (204 kg) in tandem or triple flights.
If the boat has mechanical issues, the participants are gently lowered into the water. With the life jackets provided before taking off, you'll land safe and sound on the water.
Are you ready to start parasailing?
Most activities take place along the south-west coast of Tenerife, with departures from:
Keep Adventuring
We hope our little guide has inspired you to book those plane tickets and join us here on the island of the never-ending spring. We're sure that while being out and about checking all the activities on your to-do list, you'll discover a heap more you'd like to do too. So… be curious and keep on adventuring.