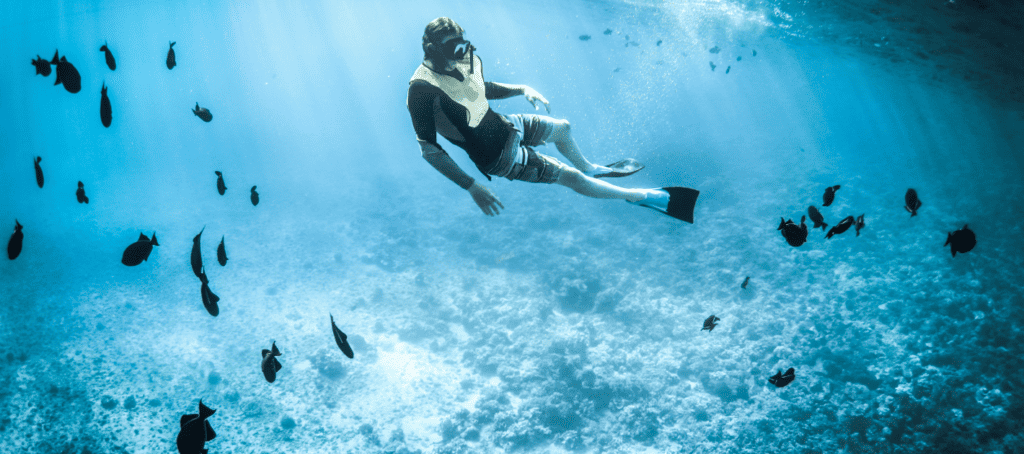 Discover Tenerife from a Different Point of View
Tenerife offers a lot more than beautiful landscapes and beaches: There is a whole different, breathtaking underwater world with an amazing flora and fauna.
To discover it, you don't need a ton of expensive diving equipment.
Try snorkeling in Tenerife and you will be surprised by how easy it is to enter a world that you would have never expected to be so fascinating.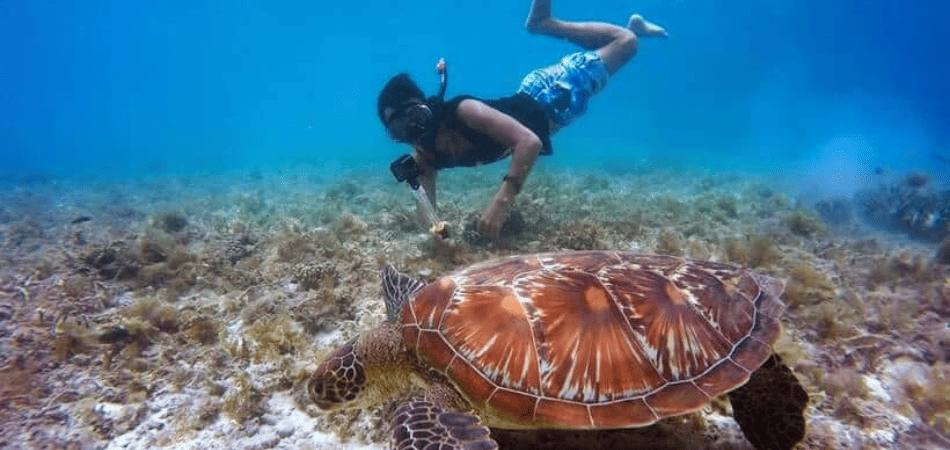 One sea creature in particular will catch your attention: the sea turtle. Five different species of sea turtle call the waters around Tenerife their home. Their length varies from 90 centimeters to up to 2,7 meters! The two most commonly seen species are the loggerhead turtle and the green turtle.
These magnificent animals can be found very close to the coast and are frequently encountered companions while snorkeling in Tenerife.
All you need for snorkeling is a nice spot and the ABC-equipment which includes diving goggles and a snorkel. Flippers are optional, they are only used to increase your swimming speed.
With this equipment, you can see the underwater world clearly and won't miss a second of all these beautiful impressions. Due to the all-season mild climate, snorkeling in Tenerife is available 365 days a year.
4 Great Spots for Snorkeling in Tenerife
There is a variety of snorkeling spots all around the coast of Tenerife. Some are more low-key, such as the Abades bay, some are very popular among divers. Check out our favourite 4 spots below !
If you'd prefer a guided tour with provided equipment, no problem! Guided tours are a lot of fun and will ensure that you don't miss a thing while you're underwater.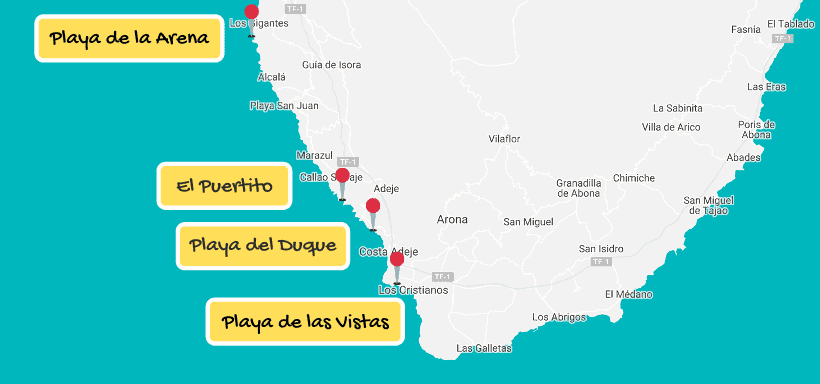 El Puertito de Adeje
At El Puertito a.k.a. Turtle Bay, the ocean has a depth of up to 12 meters. As you might have guessed, this spot is particularly well known for its sea turtles! Turtles can be seen at the depth of eight meters all year round. The terrain is made up of a rocky reef. One important fact to keep in mind is that El Puertito can only be reached by car. Another important thing to note: do not feed the wild animals! And it doesn't only apply to the turtles and El Puertito.
How to get there: Over TF-1 to TF-47 direction Playa Paraíso, then the second exit on the left to El Puertito.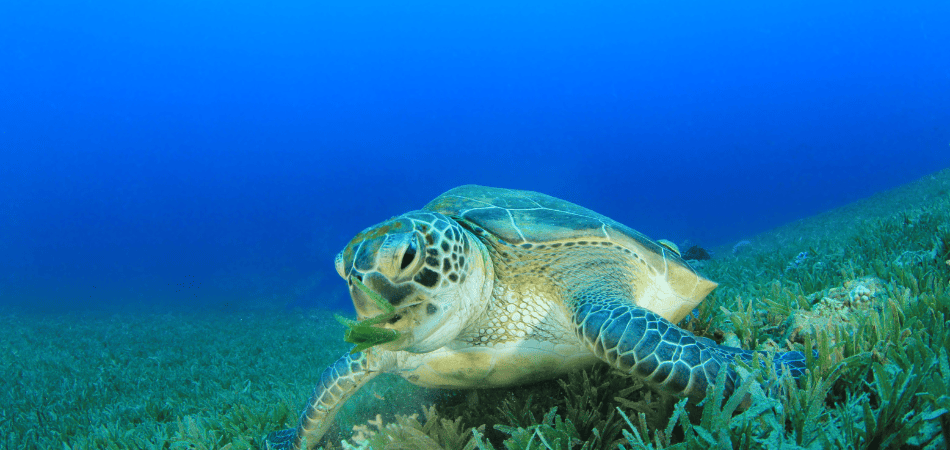 Playa de las Vistas
Playa de las Vistas is an artificial beach with fine white sand and is definitely one of the best spots for snorkeling in Tenerife! Here you can enjoy amazing visibility and a colorful fauna and flora. The beach is located between Los Cristianos and Playa de las Américas and combined with Playa Los Cristianos, it forms the longest beach in Tenerife.
Due to its proximity to Playa de Las Américas, it's very easy to reach this spot by bus.
The bathroom facilities are nice and clean. Apart from snorkeling there are a lot of other activities available, like surfing, hang-gliding and jet-skiing. The best places for snorkeling are a located little further away from the shore. There you have a higher chance of spotting turtles and rays.
Bus lines:
111 (Santa Cruz / Los Cristianos / Playa de Las Américas)
343 (Puerto Cruz / Los Cristianos / Playa de Las Américas)
473 (Los Gigantes / Las Galletas / Los Cristianos)
470 (Granadilla / Los Cristianos / Playa de Las Américas)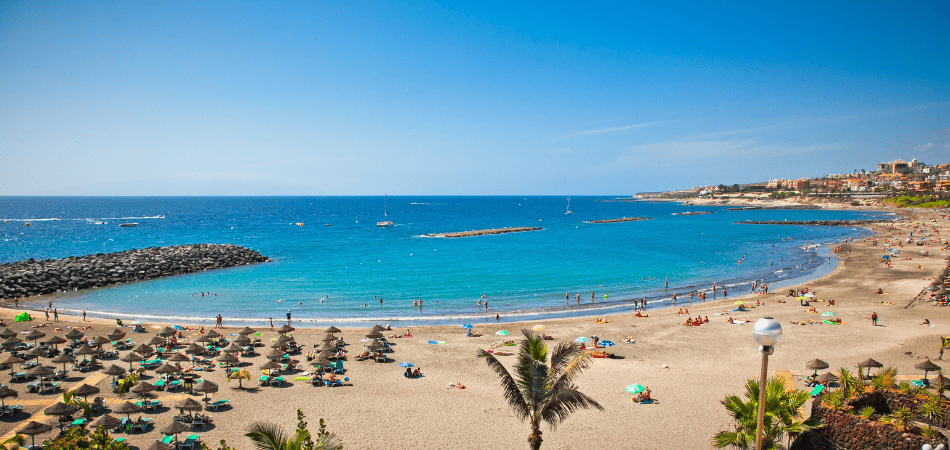 Playa de la Arena
Playa de la Arena is located in the outskirts of Puerto de Santiago. It's a beautiful black sand beach and the perfect place to discover the underwater world because of its crystal clear water. The beaches are kept clean at all times.
Playa de la Arena received the Blue Flag in 1989 which certifies the extraordinary cleanliness of the beach. You can change and stow away your clothes and belongings. It's a nice place for singles as well as families.
Bus lines:
325 (Puerto de la Cruz / A. Los Gigantes – through Icod de los Vinos)
462 (Guia de Isora / A. Los Gigantes – through Tamaimo
473 (Los Cristianos / A. Los Gigantes – through Adeje)
477 (Los Cristianos / A. Los Gigantes – DIRECT)
493 (Guia de Isora / A. Los Gigantes – through Alcalá)
Playa del Duque
Playa del Duque is a perfect place for snorkeling in Tenerife. The ocean is shallow so you can enjoy the wonderful view underwater without any trouble.
It is located in the south of Tenerife and there is a very small but nice bay with lots of sunshine and pleasant temperatures.
The beach and its surroundings are nice and quiet even though bustling Playa de Las Américas is very close by. At this beach, there are no guided tours and you have to go snorkeling on your own. But surely you can find many other people who want to go snorkeling in a group.
Bus lines:
110 (Santa Cruz / Los Cristianos – Costa Adeje (Express))
417 (Los Cristianos / Guía de Isora – through Costa Adeje)
460 (Icod de los Vinos / Costa Adeje)
Afterwards you have to change the bus lines:
418 (Playa Americas / Hotel Riu (La Caleta))
467 (Playa Americas / C C El Duque (Final Parada))
After your arrival you can reach your destination by foot in just a couple of minutes.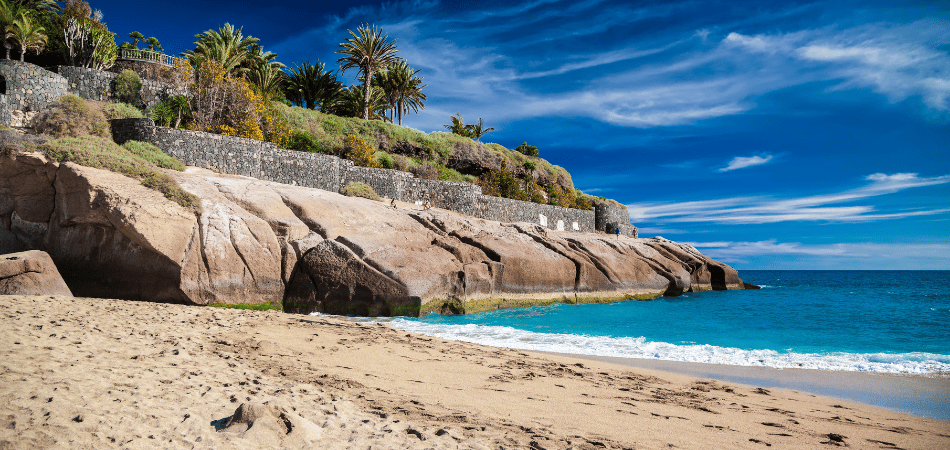 Some providers for guided snorkeling in Tenerife in these areas are:
Espiritu De Buceo
40€ |2 hours | Age 5+
includes class, equipment, insurance, photo & drink
C/ Caleta del Jurado, Edificio Jardines del Mar B1
38683 Puerto de Santiago
Tenerife
http://www.divingspirit.es
Travel Sub Dive Center
40 €
includes equipment, boat transport, water & snacks
Address: Calle Colón, s/n, Escuela Nautica
38660 Costa Adeje
Tenerife
www.divetravelsub.com
Check out this infographic if you want to learn more about some of Tenerife's marine inhabitants!