Spanish & Coworking
Did you know that we have a fully equipped coworking space right next door to our Spanish classrooms? No? Well, check the picture above! This is our shared workspace for digital nomads, journalists, freelancers, online marketers, Spanish students, and many others! "Coworking in the Sun" offers 20 working spaces and five private offices for rent with high-speed internet and professional equipment.
We are proud to say that FU International Academy Tenerife is the first language school in the world that provides a coworking space!
Our coworking spaces are for everyone, regardless of age, profession, background or Spanish level. We'll make you feel welcome from day one and in no time, you'll fall in love with the island, its people, and its culture.
Join our Spanish intensive classes in the morning and continue working on your own projects in our coworking space in the afternoon.
Coworking Spaces?? Never heard of them?
Let us quickly explain: As mentioned above, a coworking space refers to a shared office space where you can work independently. Instead of having an entire office to yourself, you work alongside other like-minded individuals.
The concept of coworking has grown massively across the world. These spaces also offer a great place to exchange ideas, work, network, and make lifelong friends!
Instead of working at home or in a local coffee shop with slow internet, you can work in a high-quality workspace in some of the most interesting locations around the world.
Originally, coworking was more about short-term renting of rooms in public locations like libraries or taking your laptop to Starbucks, but it has evolved into so much more. Nowadays, it is a way to develop a community, work in a new location, increase your productivity and improve your job satisfaction.
10 years ago the concept would have been very foreign, but coworking is the future, and the future is now!
What Does Our Coworking Space Offer?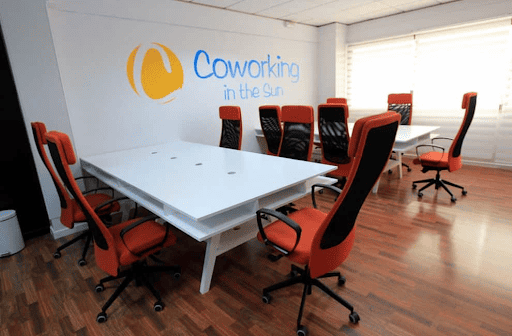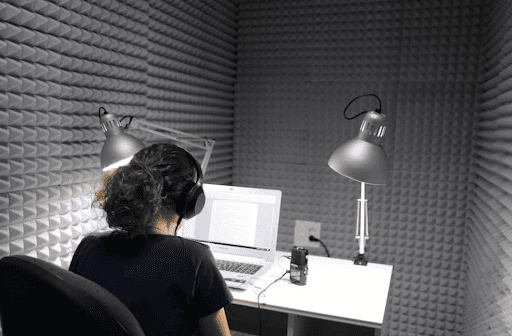 Our coworking space is designed for people in a huge range of professions and backgrounds. As today's workplace has evolved, we're no longer confined to the office. Your workplace is wherever your laptop is! Contracts are flexible, and employers value job satisfaction. Who wouldn't want the flexibility to work anywhere in the world?
We have a unique atmosphere and vibrance due to our steady stream of new students, coworkers and nomads coming to Tenerife to learn, visit, work and relax.
Our coworking space offers the flexibility, freedom and comfort of working away from your office while providing human interaction that is often missed by remote or home workers. Also, our team organizes leisure activities such as salsa classes, Spanish culture classes, botanical garden excursions, and surf sessions.
Combining your coworking with our Spanish lessons is a wonderful way to really get to know the Canary Islands' culture! Meanwhile, you'll develop your understanding of one of the world's most popular languages.
Seize the opportunity to explore one of the most unique islands in the world! We are a short walk from world-class beaches, quality local cuisine, hidden gems and tourist hotspots. Tenerife is a diverse and beautiful volcanic island that has so much to offer.
Tenerife is also called "the island of eternal spring". With an average temperature of 22°C year round, you can escape the cold weather in the winter and cowork in the sun.
Our coworkers have access to a wide variety of services, including: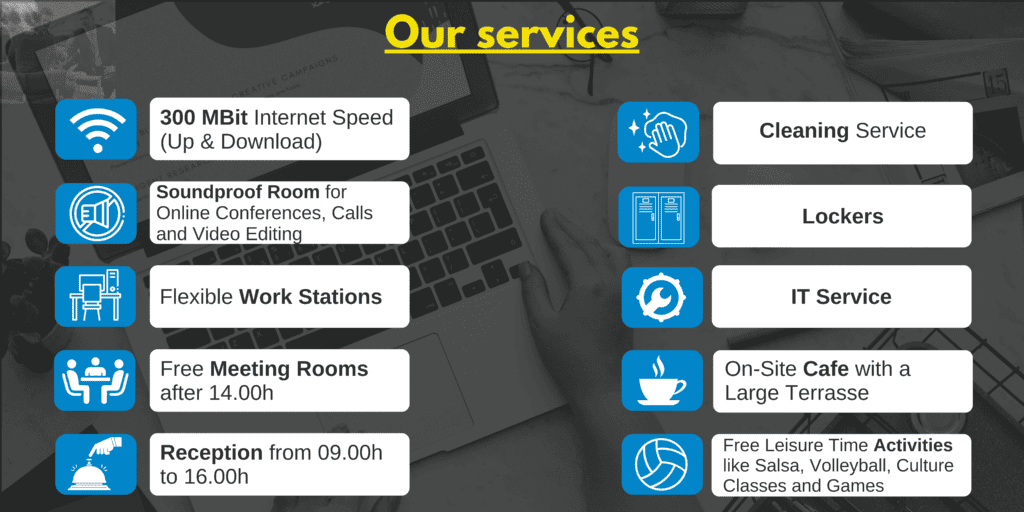 Our location in Puerto de la Cruz offers many benefits:
Are You Looking For More Privacy for Your Team?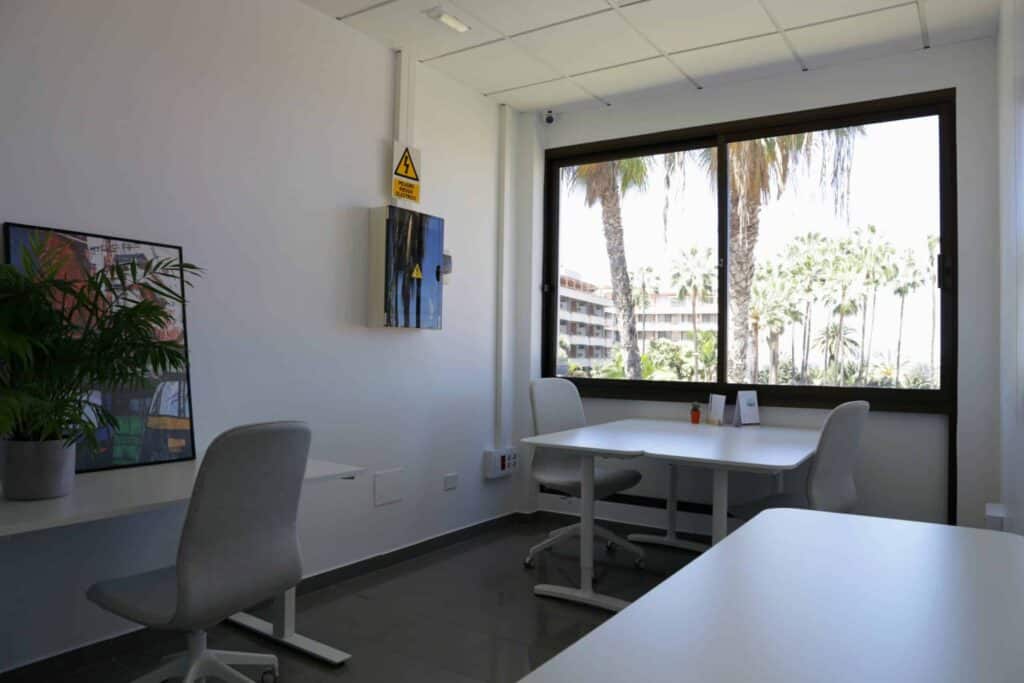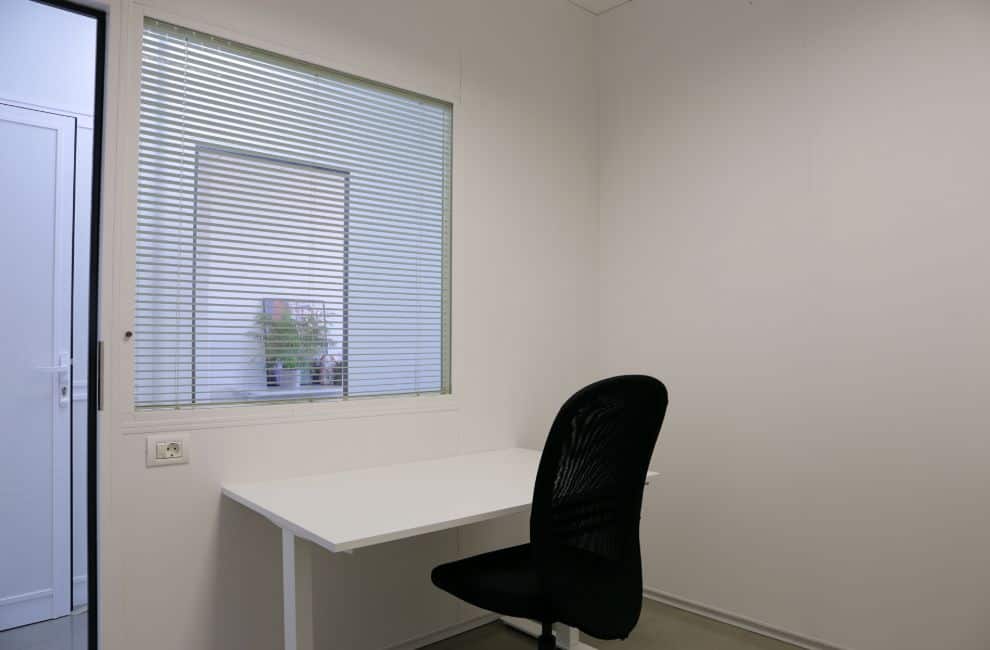 If you prefer a space where you can collaborate with your colleague(s), then our private offices are the perfect fit for you. We offer five private offices, each with a different capacity, with a maximum of 5 people. All offices include private access (Mon-Sun 8:00 – 22:00 h), shared coffee nook with fridge and microwave, shared Wi-Fi (1000Mb/s), electricity, water and cleaning service.
Want to Combine Spanish Classes and Coworking?
Did this article convince you to combine Spanish classes with coworking? Then we'd love to hear from you! Join the countless happy coworking alumni today:
Find out all about our coworking space at www.coworkinginthesun.com and secure your 10% discount for our Spanish students!
Simply mention on the enrollment form that you want to use the coworking space.