¡Vamos a la playa!
The most famous feature of Tenerife is its variety of beaches. Do you want to sunbathe on the beach, relax under the palm trees, or surf? There is a beach for everyone!
Thanks to Tenerife's warm climate all year round, you can soak up vitamin D in any season. However, we already hear you thinking: how do I decide which beach to visit on such a diverse island? Don't worry – we got you!
To save you the research work, we have listed the ten most beautiful beaches – in our opinion – below. To make planning easier, we included photos and locations on Google Maps.
Playa de Benijo – Unspoiled Beauty

Are you a nature lover? Then you can't miss Playa de Benijo! Here you'll find nature at its purest. This untouched black sand beach is located in the Anaga Rural Park on Tenerife's northern coast.
The path down to the beach is already quite an experience. During this 15-minute walk, you'll enjoy a great view over the shiny, black beach at the foot of the cliffs of Anaga. Be aware that you won't find any facilities like shops, showers or sunbeds here. No lifeguards either, so watch out for the waves, as they can be quite powerful. Since this place is rather remote and difficult to reach, it does not attract many tourists, which is to its advantage.
Watching the sunset on the beach will complete your day. A panoramic view, black sand, emerging rocks, and no one around makes it the ideal way to end your beach day.
Playa El Bollullo – Natural Charm
There is something natural and enchanting about Playa El Bollullo that charms you right away. This unspoiled beach of black sand, located near Puerto de la Cruz, has remained isolated for centuries. The beach is only 160 meters long but is perfect to relax and enjoy the scenery. It's a wonderful place to escape the city and reconnect with nature, without being too remote.
You can reach the beach by going down some well-maintained stairs. Usually, the beach is very calm and peaceful, and it has a small beach bar where you also can rent sun loungers and umbrellas. The water in this area is crystal-clear and fresh. Tenerife's northerly wind creates quite strong waves on this beach, making it a popular surfing spot.
So if you are into wild nature and big waves, Playa El Bollullo is the place for you!
Playa Jardín – The Beach Garden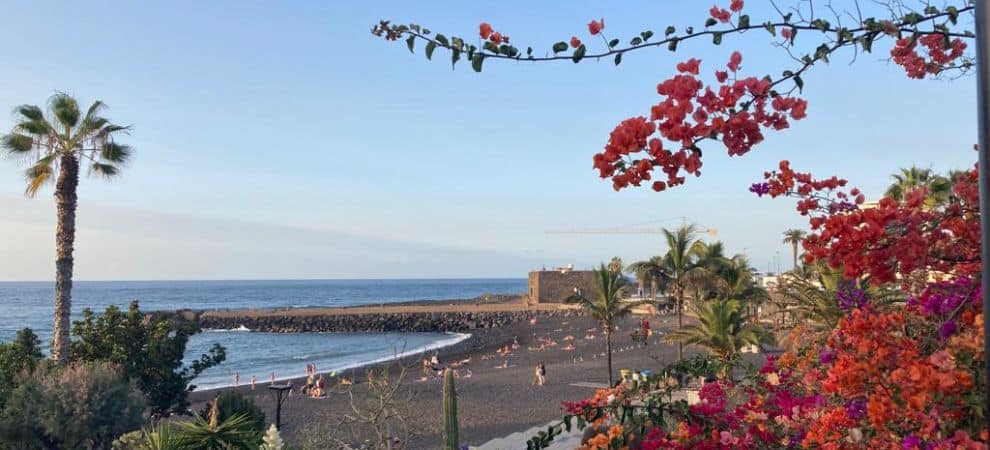 Playa Jardín complex, which includes Playa del Castillo, Playa del Charcón and Playa de Punta Brava, is one of the most characteristic places in Puerto de la Cruz. These large, black beaches are designed by the Canarian artist César Manrique. He designed the coastline of the beach, intending to achieve an exotic coastal landscape. Translated as "garden beach", Playa Jardín really lives up to its name.
If you can't or simply don't want to decide which one to choose, you can do it right there. It is divided into three different parts and each one has its own characteristics.

Playa del Castillo
First, there is the western bay, Playa Castillo, with shady palms, rough sand, and a lot of little stones. Due to the high waves, this part of the beach is popular among bodyboarders and surfers.

Playa del Charcón
El Charcón is the middle bay, the smallest one of all three. It is the least crowded and perfect for someone who enjoys tanning in peace.

Playa de Punta Brava
And last but not least, in the eastern bay, there is Punta Brava, a beach with very fine black sand. This largest bay is a perfect fit for swimmers and families with small children.
Both the beaches and the surrounding area offer everything you need for a perfect day out. You can jump on the waves, bodysurf, tan, play volleyball and get a drink or a quick lunch around. On top of that, Playa Jardín offers a fantastic view of the Teide, Spain's highest mountain.
So, no matter if you want to (body)surf, swim, tan, or all three – Playa Jardín is the perfect spot for you!
Playa de las Teresitas – Dreamy Beach
The gorgeous white-sand Playa de las Teresitas is a perfect beach to lay your towel and spend a few hours baking in the sun. This beach with imported sand from the Sahara is located in the northeast of Tenerife. It has calm waters, a family atmosphere, and is near Santa Cruz de Tenerife, the island's capital.
Also worth a visit is an accompanying viewpoint, which is situated on a mountain near Las Teresitas Beach. The perfect spot for an Instagram photo!
The nearby fishing village of San Andrés offers great opportunities for hiking and other mountain adventures in the Anaga mountains. This will give you an insight into what traditional Tenerife looks like and how the locals live. Don't forget to try local seafood there!
Playa del Duque – Luxury Beach

Playa del Duque is located in the tourist part of Adeje, in the South region of Tenerife. Its soft golden sand, incredible turquoise water, parasols, and 5 Stars-Hotel-Resorts distinguish this beach from the beaches in the north of Tenerife. For this reason, it is often described as a premium beach. Therefore, it is one of the best beaches in Tenerife for people who want to relax and treat themselves.
Shopping areas, bars and restaurants surround this beach, which offers excellent gastronomic options. In recognition of its outstanding facilities, cleanliness, and high standards, it received the Blue Flag award.
Playa del Duque offers a full range of facilities like showers, changing areas, kiosks, etc. Parking can be quite difficult but you'll also find a large taxi rank nearby. You can also take the bus from all over the island to this beautiful beach.
Overall, it's the perfect destination if you're looking for comfort, a luxury beach, and a tourist center nearby.
Playa del Médano – Watersports Paradise
Are you looking for a little more action? Is (wind)surfing your thing?
If that's the case, El Médano is THE place to be! The beach is located right in the village of El Médano, in the municipality of Granadilla de Abona, in the south of Tenerife. Typically for this part of Tenerife, the beach has light brown sand and on top of that a great view of the majestic Montaña Roja volcanic cone.
The wind is the dominant force in this place. Due to its strength, it's ideal for water sports like windsurfing, kitesurfing, diving and surfing. In fact, this beach hosts world-famous championships, like the wind and kite surfing World Cup. As a beginner, you can learn these fun sports in one of the many surf schools.
Whether you like water sports or want to enjoy a beautiful day with the family, this beach has the blue flag, ensuring excellent facilities. On the promenade, you can experience the typical surf town atmosphere, with handicraft selling stands, seafood restaurants and chill bars with live music.
But in either case – be cautious! Keep an eye on the color of the raised flag!
Playa de Diego Hernández – Hippie Beach
Located near the area of La Caleta, in the municipality of Adeje, just below the Costa Adeje Golf Course, you will find this hidden gem. It is probably one of Tenerife's wildest and least visited beaches. That's precisely why it's worth a visit!
Quite a long walk through unspoiled volcanic nature will lead you to the hidden turquoise waters with golden sands in this protected location. On top of that, you'll enjoy the incredible landscape with views of La Gomera, the neighboring island. It's isolated because there is no road leading to it, there are no hotels around it, no services and no lifeguards. This place is also known as "Caleta de los Hippies" because there used to live hippies in little huts of dried palm leaves, branches and rocks.
Be prepared for strong swells, and waves may appear when you least expect them! But it's not difficult to swim at this spectacular beach. You shouldn't miss out on this hidden gem if you want to avoid the typical tourist beaches and explore the wild side of Tenerife!
Playa de Radazul – Scuba Spot
Seeking a unique experience where you can observe a variety of fish up close? Then Playa de Radazul is the place to be!
Despite its small size, this beach is quite popular, especially among locals. It is located in the area of Radazul, only 13 kilometers down from the capital Santa Cruz.
Besides two small square-shaped black sand beaches, there is a large bathing area by the sea. In addition, it has all the services needed to enjoy a day at the beach: showers, changing rooms, parking, and children's playground.
With its clear and deep waters, it's one of Tenerife's best scuba diving spots. Here, you can spot octopus, cuttlefish, ray, etc. It's suitable for beginners as well as for professionals and technical divers, as it offers depths of more than 40 meters within walking distance from the beach.
There's no better place to spot fish of any kind than here! Check our complete blog posts about Best Spots for Snorkeling and All About Diving in Tenerife.
Playa Torviscas y Fañabé – Active Beach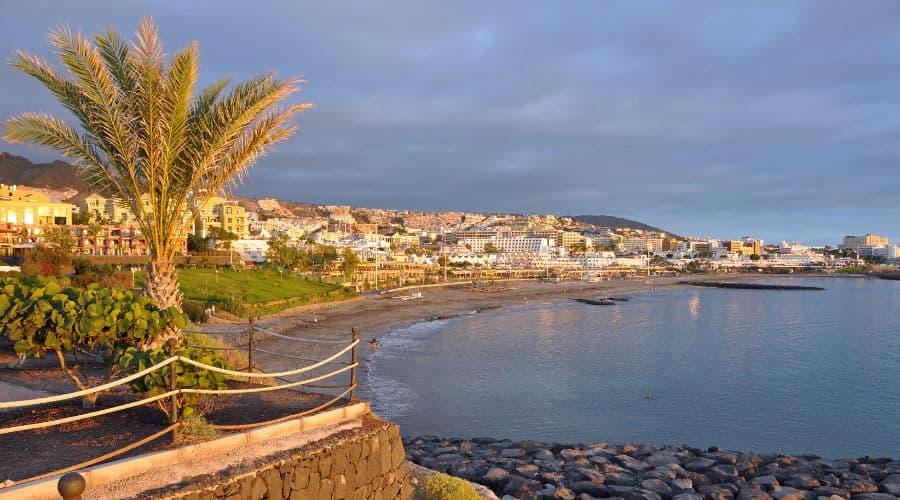 Playa Torviscas/Fañabé is a large double beach, located in Adeje. The light sand and calm waters attract a lot of tourists, making this beach one of the liveliest in the south of Tenerife. Playa Torviscas/Fañabé is an adrenaline junkie's paradise!
Jet skiing, banana boating, paddle boating, and parasailing are just a few of the water sports you can take part in. The beach also offers some leisure time facilities like crazy golf and a trampoline. Don't forget to ask for the costs before participating in any of these activities!
Of course, not only water sports enthusiasts will enjoy Playa Torviscas or Fañabé. The area also offers more passive activities, such as glass-bottomed boat excursions.
The beach is also a great place to relax, sunbathe, or have a drink. Plus, you'll find all the necessities, like showers, toilets, sun loungers and several restaurants nearby.
Playa de Abama – Peaceful Beach
Located in the south of Tenerife, near San Juan, lies one of the island's most beautiful beaches. As it is not known by too many people, Playa de Abama is not full of tourists. So, if you are looking for a peaceful and calm place to relax, this is where you should go. Especially for families with young children, this is one of the best beaches in Tenerife.
There are wave-breakers in the bay, so the water is quite calm. You can also rent sun loungers, parasols, and bath towels easily. It has parking, toilets, showers and even a beach bar and a restaurant.
From the parking, you have to walk to the lookout point, which takes around ten minutes. From there, you have a great view of the tiny secluded beach and the turquoise water between the rocks. Prepare yourselves for a nice little walk! Because you'll have to walk the street until you reach the stairs. Unless you are a guest at the Ritz Carlton Resort, in which case you can take a funicular, an elevator or a golf caddy.
This resort actually owns Playa de Abama, which is why there are some benefits for their guests. But don't worry! You don't have to be a hotel guest to have a great time at Playa de Abama. No matter if you just come to relax, to have a drink at the beach bar, or eat at the beach restaurant – it's accessible for everyone. But since it's kind of a luxury resort, make sure to take enough money with you! The prices can be higher than usual.
Playa de Abama is an excellent choice for people who want to enjoy a peaceful and calm atmosphere!
Do Not Forget – Preparation is Key!
For your perfect day at the beach, you should keep some things in mind!
Always wear sunscreen, even in winter.
Enter the water with bathing shoes or flip-flops. The shore can be rocky or, especially the black sand, can get very hot.
If you get stung by jellyfish, apply vinegar to the affected area. You can use sand to dry your skin beforehand.
Pay attention to the flags at all times. They have different meanings and may save you from dangerous situations:
Green flag: bathing is allowed
Yellow flag: bathing is allowed but with caution
Red flag: bathing is forbidden
We hope you enjoyed this short insight into Tenerife's 10 best beaches. Now it's up to you. Choose the beach that's best for you, go ahead and enjoy it. ¡La playa te espera!